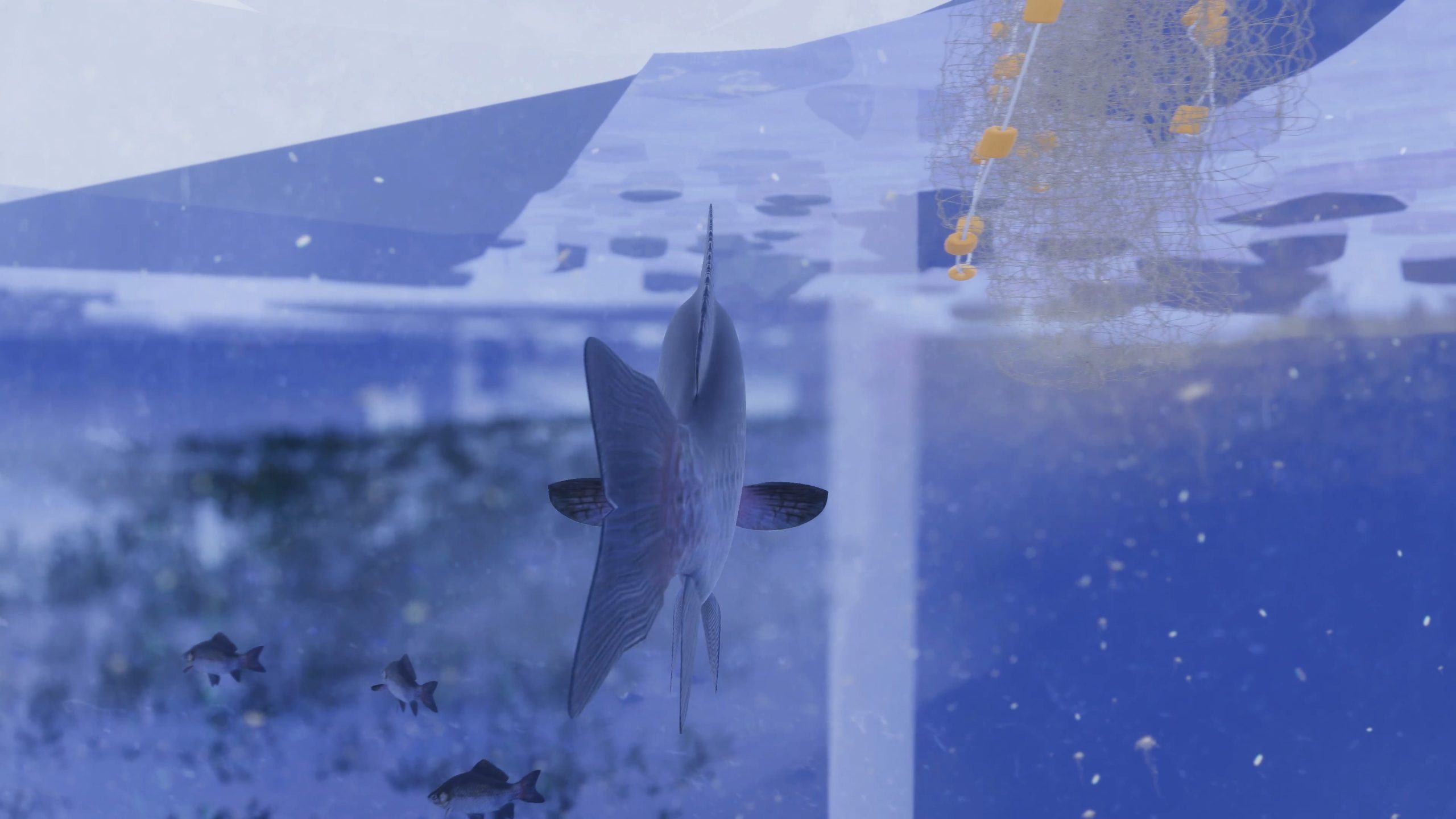 Monsters and Ghosts of the Far North: Towards an Inclusive Cartography
alternaA (Andra Pop-Jurj and Lena Geerts Danau)
The points of departure for this project are some of the spatial manifestations of the social, economic, and geopolitical conflicts in the Arctic region caused by environmental degradation.
The Arctic is a site of intense geopolitical and infrastructural intrigue, with incompatible and interlocking border claims rooted in colonial and cartographic history. Monsters and Ghosts of the Far North questions current notions of sovereignty and challenges the permanence of national borders and the primacy of the nation state, thereby reconceptualising the contested geopolitics of land ownership in the region.  
The scientific and cartographic artefacts encountered throughout our research have proven flattening and exclusive in essence and they often fail to capture the dynamic nature of the Arctic. The project thus searches for an alternative mode of engagement with the spatial manifestation of these fluctuations. We propose the use of a game engine to inquire into modes of multispecies cohabitation and negotiation of space following the development of extractive industries in the region. In doing so, the project employs trans-temporal and interscalar worldmaking techniques. It uses both data and narrative to visualize global aspects along with the histories of several agents living in this environment. 
Throughout this practice, we place multispecies entanglements at the core of our research and hope to challenge and refine the predominant narratives of the worlds we live in. Our understanding of what makes us human is rooted in the symbiotic relationships between and within species. The prototype proposal is an interactive experience in which one encounters a shift of perspective by impersonating non-human agents: an Ice island, a Methanobacteria, an Arctic Tern, an Arctic Cod, a Reindeer, a Crater and a Machine. We are interested in these monsters, who live in the landscapes haunted by the violence of modernity, which we refer to as ghosts. The entangled narratives of these characters form a framework to think with as part of Monsters and Ghosts of the Far North.
Ultimately, the purpose of the game is to be driven by these environmental changes as they happen in real life. The Arctic environment is the narrator of events and the player is rarely in charge inside the game space. The game environment is thus an alternative cartography that serves as a testing ground for existing and emerging forms of multispecies cohabitation in a time of geological and geopolitical transformations.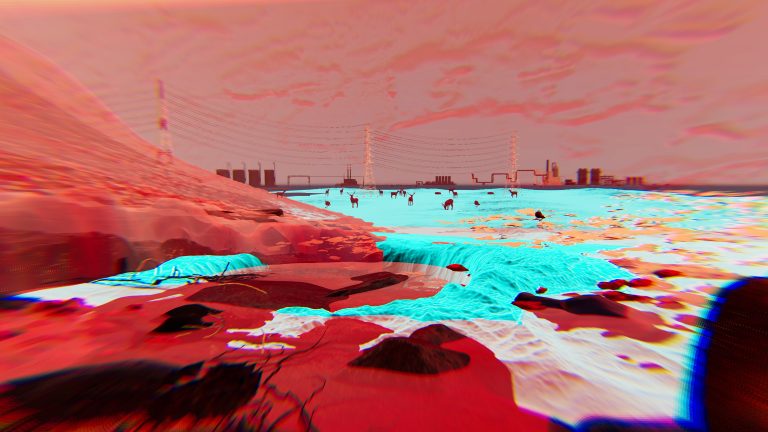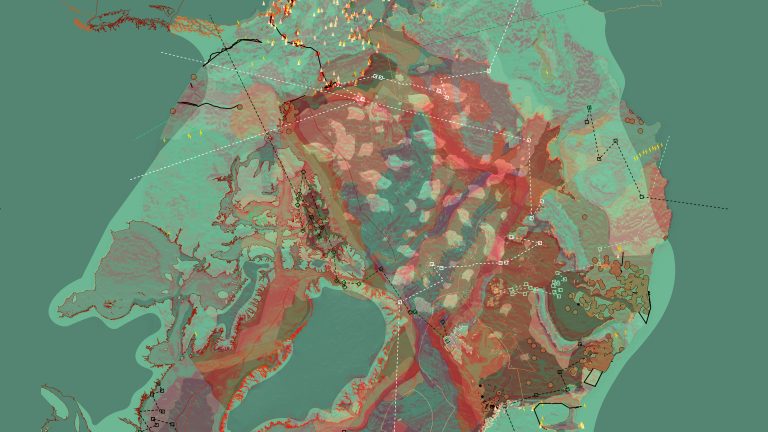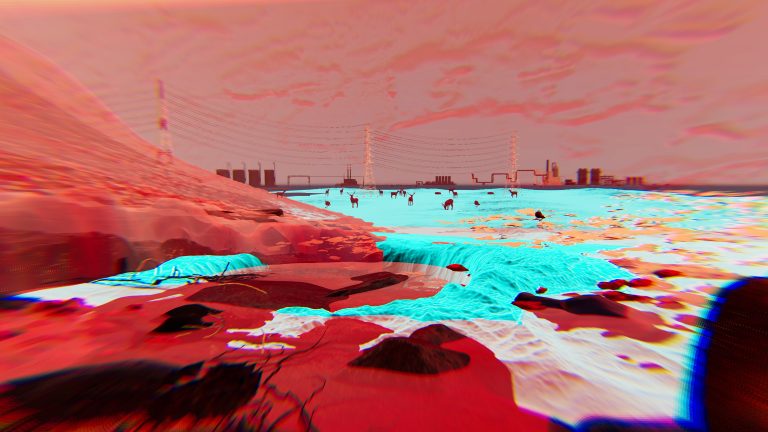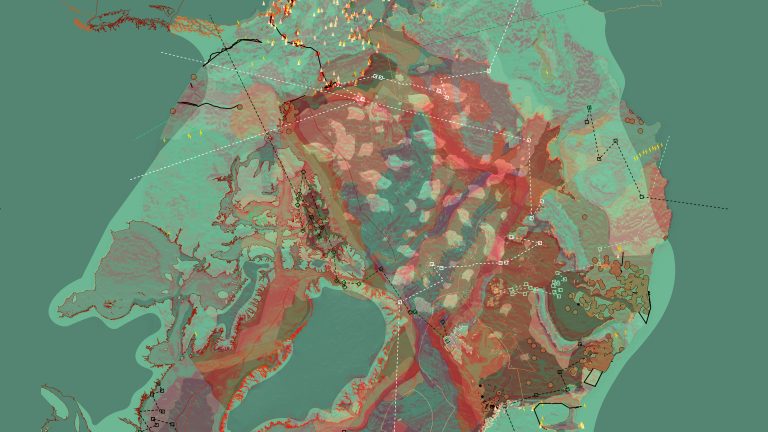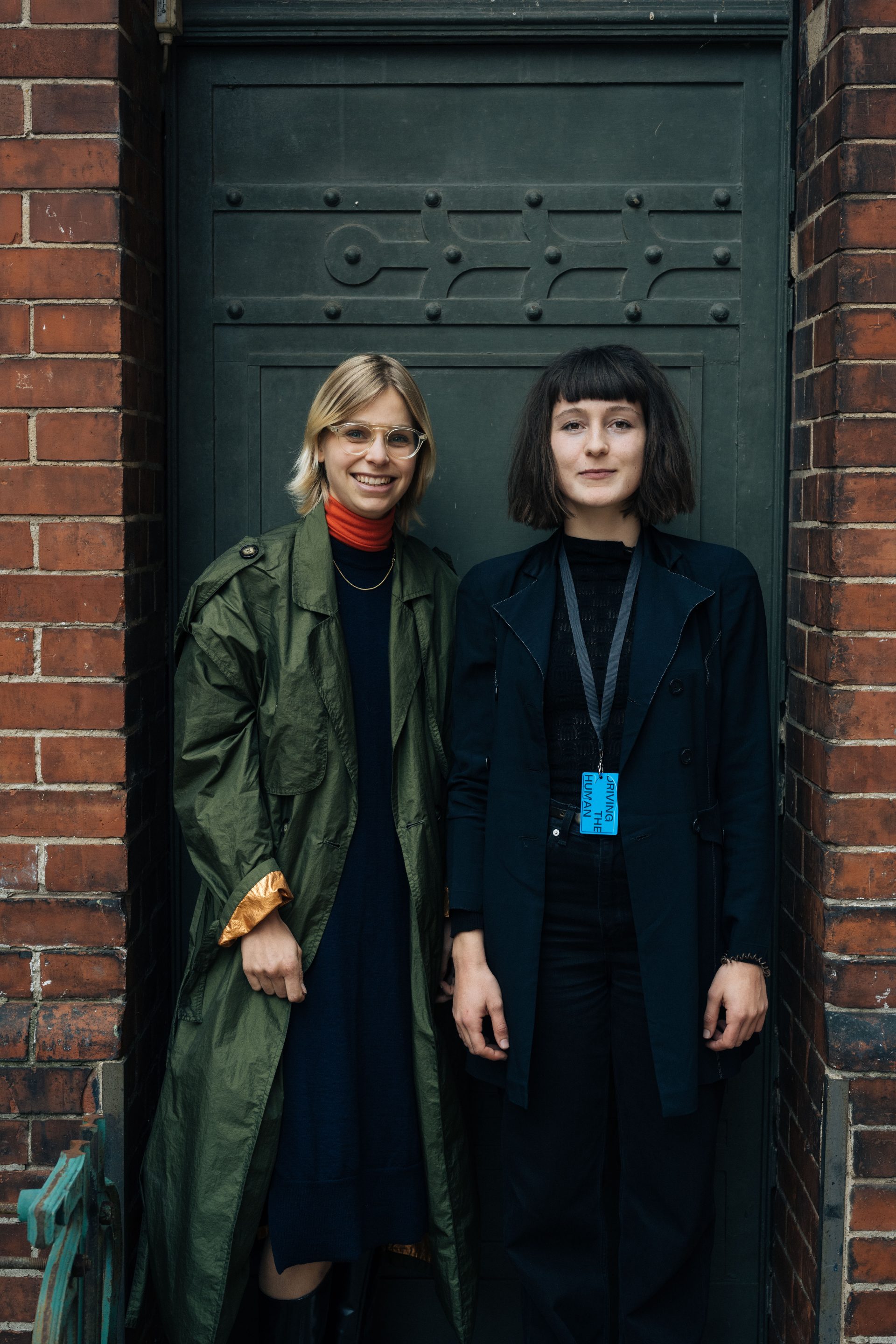 Andra Pop-Jurj and Lena Geerts Danau are graduating with a Master of Architecture from the Royal College of Art (RCA), London.
Pop-Jurj's interest lies at the intersection of architecture, spatial politics and environmental degradation. Born in Romania, she studied at the Technical University of Munich and the National University of Singapore prior to her experience at the RCA. Having gained work experience at several architecture studios in Germany and at Sergison Bates architects in London, Pop-Jurj currently works as a freelance architectural designer while expanding her practice as a researcher. Her international and multidisciplinary background, coupled with her experience as part of ADS4: Plots, Props & Paranoia: How Architecture Stages Conspiracy, have stimulated her interest in the expanding definitions of architecture and her research into speculative design and the role of architecture in social, environmental and geopolitical conflicts, identity and nation-building. 
As a research architect and spatial designer, Lena is particularly interested in geopolitical and geographical influences — concerning the climate — that create new territorial situations. Originally Geerts Danau comes from Antwerp, where she also completed her bachelor degree in Architecture, she then went on to Norway for an Erasmus exchange at the Bergen Architektur Hogskole. In 2019, she came back to Antwerp and worked for the architectural practice called B-architects. Having obtained these experiences, she moved on to study at the Royal College of Art in London, where she studied in ADS7: Politics of the Atmosphere, and ADS8: Data matter – the gaming edition. She explored topics going from the geopolitical influence of data distribution up to fluid border situations. Currently, Geerts Danau works as a carpenter and furniture designer at Studio Bonne. She aims to implement her practical skill combined with her research background to create interactive experiences that can potentially initiate action regarding the climate crisis.
 
AlternaA 
Pop-Jurj and Geerts Danau established alternaA, a practice in which they combined their mutual yet complementary interests regarding the spatial manifestation of social, environmental and geopolitical conflicts in the dynamic landscapes of the Arctic region. With a focus on digital technologies and environments, this critical spatial practice with an environmentally constructive agency that operates across scales and media aims to create alternative modes of representation that can initiate action regarding the climate crisis. 
Project Credits
Game Development and Prototype Engineering
Dr Thomas Deacon
Soundscape 
Chingis Enkhbaatar
Acknowledgments
ADS 8 tutors: Kamil Hilmi Dalkir, Ippolito Pestellini Laparelli, Rhiarna Dhaliwal, Dr. Dubravka Sekulic