AN INITIATIVE
STEERED BY FOUR
PARTNERS
Driving the Human is jointly led by four institutions. Together, they collaborate in the various stages of project development, creating and expanding a network of knowledge exchange and cooperation.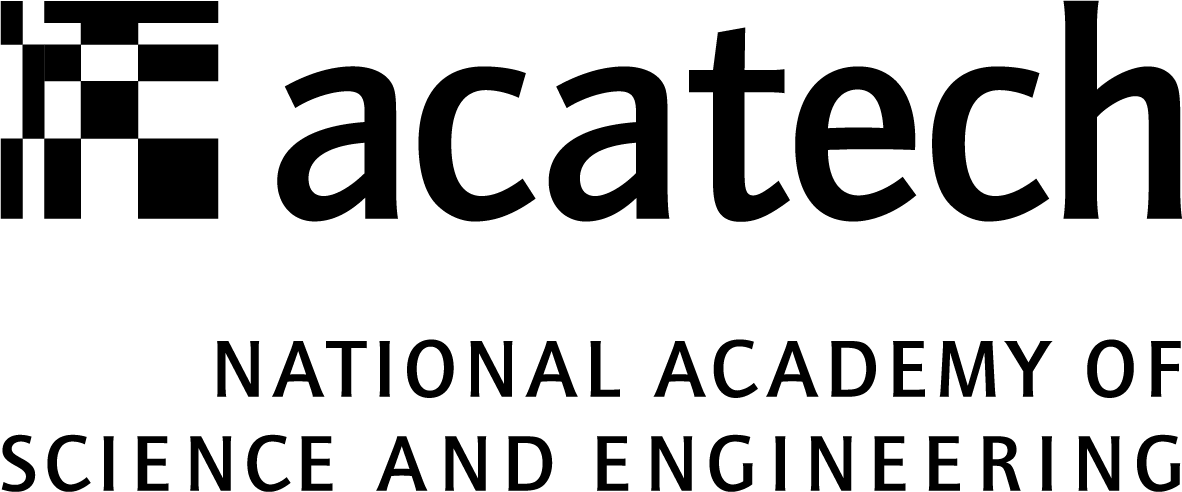 acatech – National Academy of Science and Engineering is the voice of the technological sciences in Germany and abroad, funded by the German Federal and state governments. Its committees are made up of representatives from academia and technology-oriented companies. With its expertise in questions of the future of technology science and technology policy, acatech accompanies and supports the artistic management team and establishes connections in terms of content and methodology between the scientific and economic players on the one hand, and the artistic players on the other. Last but not least, Prof. Dr. Martina Schraudner's (former acatech board member) process-related expertise as director of the Center for Responsible Research and Innovation (CeRRI) in Berlin will also be important for Driving the Human: Prof. Schraudner's institute is responsible for significant research in methodologically important fields such as transfer strategies, technology acceptance, and transdisciplinary design methods.

As an interdisciplinary mentorship program, the Berlin-based Forecast mobilizes groundbreaking concepts in fields such as art, design, and architecture, and promotes their realization with the help of mentoring in a sophisticated prototypical process. As a platform for knowledge transfer, Forecast gives international pioneers of creative disciplines the opportunity to realize their projects alongside renowned mentors, and present them as prototypes to a larger audience. The consistently implemented principle of open access in the international call for proposals reveals a wide range of different working methods and topics. Forecast originally held its events in the Haus der Kulturen der Welt and has been working with Radialsystem in Berlin since 2019. Forecast's artistic director Freo Majer initiated the European cooperation Housing the Human in 2017, a complex collaboration project that allowed to test the development process that serves as a blueprint for Driving the Human.

The Karlsruhe University of Arts and Design distinguishes itself by its approach, unique in Europe, of combining studies in art, design, and critical theory. This is complemented by a contemporary understanding of both current technological developments and the complexities of the contemporary. Common to all courses is interdisciplinarity, allowing for an ideal combination of theory and practical experience that reflects the teaching concept of the university. 
The ZKM | Center for Art and Media Karlsruhe is an institution of all media and genres, a house of both spatial arts such as painting, photography, and sculpture and time-based arts such as film, video, media art, music, dance, theater, and performance. Founded in 1989 with the mission of continuing the classical arts into the digital age, the ZKM is also called the digital Bauhaus. By combining research and production, exhibition and performance, collection and archive, the ZKM is able to accurately depict the development of twentieth and twenty-first century art, not least because the ZKM's collection, exhibition, and research activities of the ZKM are accompanied by symposia and other platforms of theoretical discourse between philosophy, science, art, politics, and business. From the very beginning, the ZKM has taken on the task of creating innovative conditions for the emergence of art. To this end, in the ZKM's Hertz Lab guest artists, scholars, and scientists from around the world research, develop, and produce works on artificial intelligence, augmented reality, virtual reality, and many other topics in the ZKM's Hertz Lab. Besides presenting and producing art, the ZKM is committed to preserving interactive, digital media artworks, and in this area develops new technological methods for new forms of art. It is this interaction between research and production, between exhibitions and performances, that sets the ZKM apart from other cultural institutions – it is more than a museum; it is a center and a future lab.