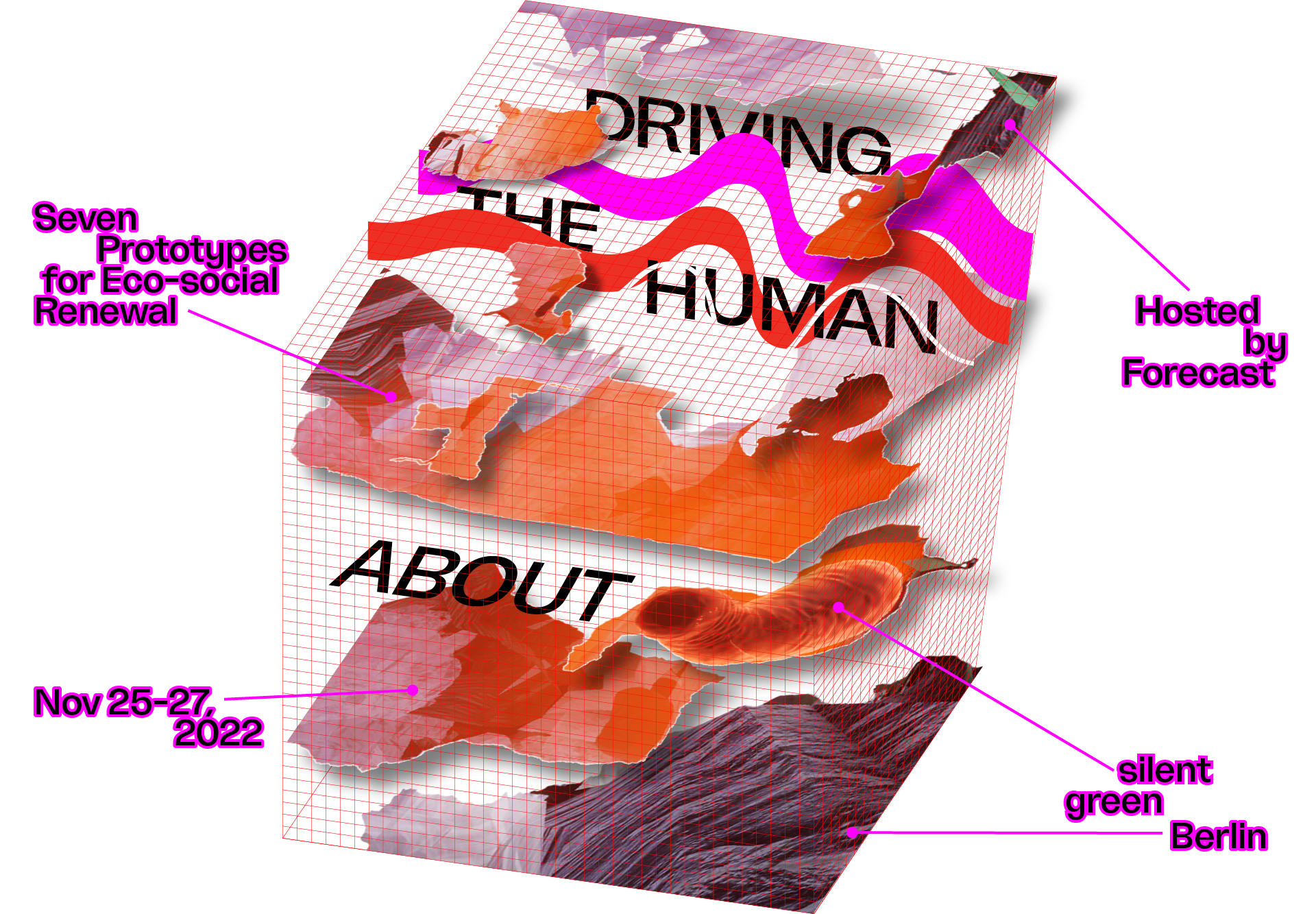 From November 25–27, 2022, Driving the Human realizes a three-day festival marking the culmination of three years of collaboration, research and experimentation, connecting disciplines between sciences and the arts. 
Driving the Human: Seven Prototypes for Eco-social Renewal
Hosted by Forecast
November 25-27, 2022
silent green
Gerichtstraße 35, 13347 Berlin, Germany 
Hosted by Forecast at silent green in Berlin, the festival features at its heart seven tangible prototypes that respond to our current planetary moment, enabling new ways of envisioning and inhabiting the world.
The Seven Prototypes for Eco-social Renewal propose new ways to engage with each other and with what surrounds us, at the surface of the planet and beyond. They explore ways in which AI could mitigate instead of accelerating climate change; immerse us in new forms of making community through ancestral agricultural knowledge; employ fiction as an imagination tool for new forms of multispecies conviviality; or create embodied connections as a tool to understand and change human impact in endangered territories. Together, these seven prototypes reinforce perspectives in which collaboration and interdependency become essential, determining factors for life and survival on our planet.
Installations, conversations, tours, performances
The Driving the Human festival brings to the forefront the seven prototypes and the extended network that has emerged out of three years of collaboration. Each prototype manifests in physical form as a fully experienceable installation, free and open to visit during the full festival duration. Around the installations, tours, exchanges and performances led by invited experts, project authors and partner representatives offer opportunities for conversations and shared moments of commonality. From Brigitte Baptiste to Tatiana Bilbao, and from Corine Pelluchon to Suzanne Pierre, explore our extensive participant list here.
The Driving the Human Center
The Driving the Human Center acts as the beating heart of the festival. Here, visitors can hang out and enjoy the lounge space, listen to conversations between participants and experts, depart for tours and deep dives, use the bar and peruse the Driving the Human library. At the silkscreen station, visitors can bring their old tote bags for a refresh; and at the pin button station, they can create new questions to respond to the festival's many dimensions. Dive into the many dimensions of the program here. 
Workshop program
The festival proposes a varied program of workshops for different audiences, led by Driving the Human project authors, by project partners, and by local initiatives in Berlin. From a fermentation station to learning how to comunicate scientific topics on TikTok, and from programming with sensors to an exploration of human-microbial interactions, the workshops offer new ways of engaging with the different themes of the festival. All the listed workshops are free to attend, but require registration. Explore the workshop program and register here.
form x Driving the Human
The form Design Podcast is teaming up with Driving the Human! For this year's festival taking place in Berlin, the form editors-in-chief, Nina Sieverding and Anton Rahlwes, will set up a Speakers' Corner. In this cozy environment, the two will talk with participants and design experts about new concepts of designable togetherness. Here you can rant, criticize and rave – but beware, all conversations will be recorded and appear on the channels of the form Design Podcast as special episodes.
Concert: Marina Herlop and Low Khey
On Saturday evening, visitors can experience the vibrant, polymorphous music of Marina Herlop. The Catalonian, conservatory trained composer, vocalist, and pianist will channel her environment in truly posthuman form, following her third album Pripyat (2020). The opening act of the evening is Low Khey, an unidentified human machine juggling between epic choirs, cutting-edge trap and pre-apocalyptic soundscapes, in a rich and complex ensemble. Reserve your ticket for the concert here.
LINA Fellows
Three LINA fellows—Tevi Allan Mensah, Jonathan Steiger, and Studio Inscape – are contributing guests at the festival. Representing an emerging generation of architects that center sustainable, circular and clean practices, they will reflect on the intersections between their work and the seven prototypes on display, via workshops, individual explorations, and a conversation.
Team
Forecast
Artistic Director
Freo Majer
Head of Projects and Team
Agata Lorkowska
Driving the Human
Project Coordinator
Nikola Joetze
Program Coordinator
Vera Sacchetti
Communication and Press
Inês Revés
German Press Relations
Kathrin Luz
Production Assistant
Sarah Lipszyc
Project Assistant
Rabea Kaczor
Assistant to the Artistic Director
Melissa Marx
Working Student (Social Media)
Aisha Altenhofen
Trainee
Christina Braun
Intern
Justus Lietzke
Driving the Human Visual Identity and Website
Studio Yukiko
silent green Artistic Director
Bettina Ellerkamp and Jörg Heitmann
We thank
Louise Hoffmeister, RichardKönig, and Linda Winkler, the production and communication department, technical team, and all staff at silentgreen.
Seven Prototypes for Eco-social Renewal
Seven Prototypes
Akwasi Bediako Afrane, Anne-Sofie Belling, Bea Delgado Corrales, Lena Geerts Danau, Mang Dian, Hyeseon Jeong, Romy Kaiser, Paula Nerlich, Eliana Otta, Andra Pop-Jurj, Xiaoyu Iris Qu (曲晓宇), Vincent Rumahloine, Seongmin Yuk
Experts
Kim Albrecht, Brigitte Baptiste, Tatiana Bilbao, Washington Fajardo, Jan-Micha Gamer, Alexander Hicks, Kabelo Malatsie, Hemal Naik, Corine Pelluchon, Suzanne Pierre, Margit Rosen, Yuri Tuma
Moderators and activators
Song Tae Chong, Daniel Cremer, Ariana Dongus, Anton Rahlwes, Vera Sacchetti, Nina Sieverding, Antje Stahl, Chloe Stead
LINA Platform Fellows
Tevi Allan Mensah, Jonathan Steiger, Eileen Stornebrink, Willie Vogel
Concert
Marina Herlop, Low Khey
Local Initiatives
Floating Kidsuni, Kulturlabor Trial&Error e.V., Kunst-Stoffe – Zentralstelle für wiederverwendbare Materialien e.V., Ort-Schafft-Material, Soydivision, Reste der Reste
Spatial Design
Studio Judith Seng and Constructlab (Alexander Römer)
Stage Manager
Ndona Kasukamako, Esther Madubuko, Hana Petersen
Hospitality
Sophie Charleson
Artist Support
Marc Abadie, Vedat Dayan
Video Documentation
Stephan Talneau
Photography
Camille Blake
Technical Coordination
Production Office Ingenieurbüro für Entertainment
Technical service provider
AMBION GmbH Lighting
Design
Henning Schletter
Copyediting
Joanna Durier, BarbaraHauß, Julia Thorson
Exhibition Support
kujawa raumdesign
Festival Support Team
Clara Böckers, Maximilian Hornisch, Kim Kampe, Lara Mühlinghaus, Donna Schons, Valerie Stötzer, Sergen Yener
Supported by
PRIMOZA, Die Seedball-Manufaktur, FVG Folien-Vertriebs GmbH
Thanks to
Kristin Hjellegjerde Gallery, MARS | Küche & Bar, Georgia Goody-Miceli, Patrick Liwitzki, Hili Perlson
Cooperation Driving the Human has been initiated by Forecast, and further developed in continuous conversations between Freo Majer with Jan Boelen (Atelier LUMA), Martina Schraudner (Fraunhofer Center for Responsible Research and Innovation (CeRRI)), and the curatorial team of ZKM.
acatech
Sandra Fendl, Doerthe Winter-Berke, Hannah Lecheler
Staatliche Hochschule für Gestaltung Karlsruhe / Bio Design Lab
Julia Ihls, Anthea Oestreicher, Hajo Eickbusch, Jehad Othman
ZKM
Peter Weibel, Sarah Donderer, Daria Parkhomenko, Philipp Ziegler
ZKM – Scientist in Residence Program
Kim Albrecht, Maya Indira Ganesh, Xandra van der Eyck, Iris Long 
BOOK YOUR TICKETS