"A critical lens through family is of fundamental importance to collectively shaping future imaginaries of cohabitation and interdependency"
Ripple, Ripple, Rippling is about the situated knowledge in the survival tactics of marginalized groups rooted in precarity; that is, how to settle in liminality, inhabit thresholds, and enact interdependency. The research project was initiated by Jingru (Cyan) Cheng & Chen Zhan, who share an overview of the process and current status in preparation for the presentation in Berlin.
When and how did your project start?
Ripple, Ripple, Rippling builds on Cyan's long-term design research work on Chinese rurality, domesticity and collectivity since 2014. In addition to her doctoral work, Cyan has worked with Shigushan village in a variety of research projects and collaborations, including the Architectural Association Wuhan Visiting School (2015-17, co-directed by Cyan) and a British Academy project (2018-19, Cyan as the post-doc and project coordinator) working with sociologists, community activists and local governments, among others. Outcomes of this line of work by Cyan received commendations by the RIBA President's Awards for Research from the Royal Institute of British Architects, in 2018 and 2020, respectively.
There are two main reasons that prompted the initiation of a new phase with a new project team responding to the Driving the Human Open Call.
On the one hand, previous research has taught us that family is amongst the most taken-for-granted constructs, in which political, social and cultural consensus is naturalised and thus powerful and pervasive. Yet, alternative practices of domesticity can also be an act of rebellion, starting from the home. Therefore, a critical lens through family is of fundamental importance to collectively shaping future imaginaries of cohabitation and interdependency.
On the other, given that the central concern is about the situated knowledge in the everyday practice of the dissolved household, we are committed to devising a methodological framework that facilitates self-expression and collective enunciation of these families, rather than us as trained architect, anthropologist and choreographer jumping into the village to study the locals. This in part reflects on the critique in the 'reflexive turn' in anthropology that calls out the reduction of 'research subjects' to 'objects' under discriminating scientific gaze. In this project, it is essential for us to foster inter-subjective encounters between those involved. We believe that seeing, listening, dancing, recording, filmmaking, if done with care and sensitivity, can be a work of recognition and acts of solidarity.
What is the profile of the project collaborators?
We are very excited to have a new collaborator joining the team, Mengfan Wang, a theatre director and choreographer trained in China and Germany. Mengfan's theatre practice co-creates dance works with and of ordinary people, in particular middle-aged women, children and the elderly, who are the main demographics of the village. A key challenge of the project is that the situated knowledge we seek to bring out is largely non-discursive and bodily. Since lived experiences mould and are moulded in the body, performative expression has the potential to tell non-discursive stories by stimulating the body to act in specific conditions.
On the methodological end, an anthropological lens underpins all aspects of the project—participant observation, socio-spatial curation and projective and emergent improvisation to be acted out or performed by villagers—and in this way sensitively and rigorously grounds alternative imaginaries in the specificities of lived experiences. Prof. Biao Xiang, Director of the Max Planck Institute of Social Anthropology in Germany, is one of the leading experts we are in conversation with. For example, a question present in all our minds is how creative art and rigorous, empirical research interact and generate new ways of seeing. Prof. Xiang will join the Berlin event in person and we very much look forward to continuing the discussion there together with fellow participants, experts and the audience.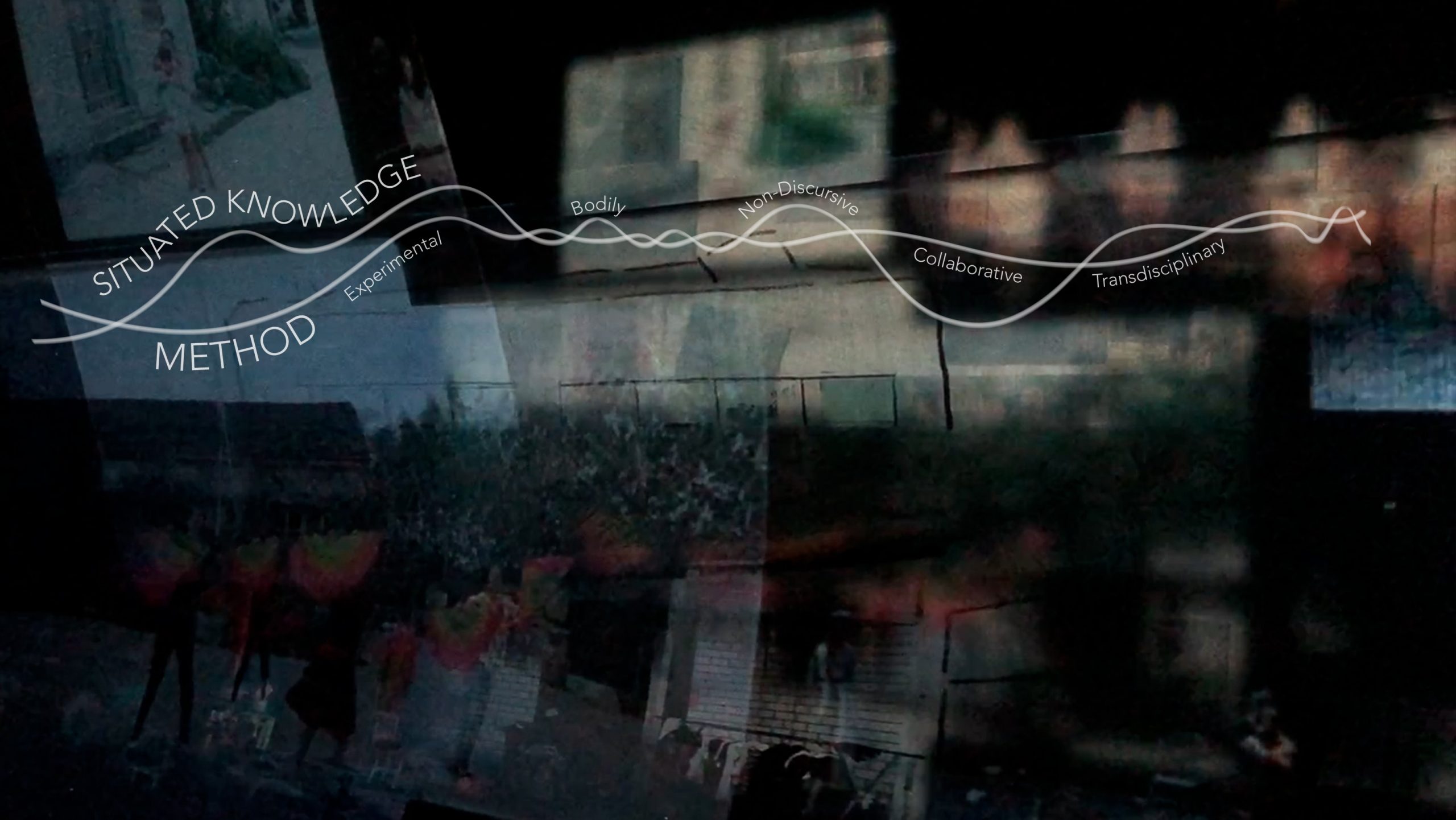 In this phase of your research, what are the two most important aspects of the project?
The first aspect is to bring out the situated knowledge in the dissolution of the families of rural migrant workers and the emergence of an intergenerational, interdependent way of living. The complexities inherent in the dissolved household interweave traditional socio-cultural roots, a recent history of China's national collectivisation and the contemporary re-appropriation and reinvention of familial forms. All these layers together fundamentally challenge the modern construct of the nuclear family model. Then, what is emerging is a ripple effect of domesticity. In contrast to the modern nuclear family flat as a fixed domain with clear separation, 'rippling' as a way of living means to settle in liminality: Boundaries do not separate but bind; Thresholds are not to be passed by but inhabited. In other words, rippling renders a liminal state of constant emerging, unfolding and becoming. What this entails and enables is always being attentive to others, anticipating negotiation, mediation and association. This is vital to forming resilient assemblages of social and economic security that hinge on inter-generational and cross-household dependency. This said, it is also very important not to romanticise. The practice of 'floating', 'dissolving' and 'rippling' is opportunistic, and essentially a survival tactic of the marginalised.
The second aspect is how to flourish alternative frames of thinking, mind and knowledge to be articulated, perceived and felt. Dispersed and circulated as part of the daily life in the margin, the situated knowledge is highly contextual, largely non-discursive, and bodily. The dominant culture is rather blind towards actions with no lexical declarations, struggles with no overt conflicts, and stories with no hero or heroine. Moreover, with the margin considered not just economically but also culturally and intellectually underdeveloped, the knowledge is diminished and overlooked by the paternalistic model of experts' leadership. How to recognise, articulate and communicate a form of knowledge that resists representation and crystallisation? With little currency in the new or the radical or striking visual evidences, how to carve out a space for its distribution? If distributed, how to foster a sense of attunement, or empathetic awareness, that makes possible freeing one's consciousness for perceptual experiences, a genuine encounter rather than an evasive gaze? These are all acute challenges we seek to tackle on the methodological end of the project.
What are the next steps in the research?
Central to the next phase of the project is the durational work-stays in Shigushan village. The method outlined below is a tentative framework and needs to be further developed and refined when put at work in the field. In general, the tasks are three-fold: 1. Observe and document villagers' daily practices. 2. Organise collaborative dance theatre exercises with villagers. 3. Curate collective happenings in the village. This is a highly experimental part in which villagers are to be not only the co-curators but also protagonists to act out projective and emergent improvisation informed by the dance theatre exercises. Improvisation and fiction play crucial a role. The notion of playing a role that is one self but simultaneously also just a projective image of one self creates both a point of reference and a forum for reflection and discussion, through which the non-discursive, bodily knowledge might be projected. To stimulate the creative flow, the socio-spatial setting for improvisation can be the catalyst, based on 'the elastic form of association' as identified in the previous architectural research. With villagers playing performative, creative and agential roles, curated collective happenings can be understood as Acted Manifesto.
The combination of improvisation, fiction and socio-spatial curation is to position the imagination of the protagonists as the driving force of the work, while maintaining a protective layer of the protagonists. Overall, rather than us conducting research and coming up with a script for villagers to act, the effort is essentially about facilitating their own performative expressions, story-telling and imaginaries. Therefore, the process of filmmaking is not just the process of producing the work, but an experimental opening in which the situated knowledge can be articulated. A documentary-fiction filmmaking as such is thus intended to penetrate reality as well as the production of knowledge.