RUM_A: Multispecies Urban Refuge in Cluster
RUM_A: Multispecies Urban Refuge in Cluster (Refúgio Urbano Multiespécies em Algomeração, in Portuguese) is a project about the importance of consciously and dialogically coexisting with other living beings as a strategy for survival and reversal of the anthropocene.
To broaden our gaze and our lived experiences to encompass multispecies associations is a strategy for survival. As long as humans fail to understand that we exist immersed in complex systems of interdependence among beings, it will be difficult to imagine the worlds the future demands. We need to transform utopias into realities. It is time to believe and act so that the ruins of the Anthropocene can become a diverse, vibrant, and collective new landscape: RUM_A is an object that experiments with multispecies coexistence, brought forth by a desire for connection. The Covid-19 pandemic, 2020–21, Rio de Janeiro, Brazil: a dystopian president, fear, and lack of human social contact. When I chose to get away from the city in a moment where urban centers are at a high risk of contamination, I did not imagine how much closer I would get to nonhuman companionship. Traversed by the ideas of anthropologist Anna Tsing, biologist Lynn Margulis, philosopher Donna Haraway, Brazilian Indigenous movement leaders Ailton Krenak and Davi Kopenawa, mycologist Paul Stamets, and entomologist Paulo Nogueira-Neto, I entered multispecies landscapes. 
Here I present some of my experiences of being attentive to spaces shared with fungi, bees, and plants, coming to believe in the importance of creating collective refuges in the centers of human monoculture. The first RUM_A reflects the ecosystem of the Atlantic forest and gathers stingless bees from the Meliponini tribe, flowering plants, Ganoderma lucidum fungi, and us, urban humans, in a cluster. Fungi are subterranean beings; they exist everywhere creating webs of communication and decomposing organic matter to recycle nutrients. As one of the first beings on earth along with plants, they created and still create conditions for life of other creatures. Bees are the most important pollinator insects. This action of transporting pollen from one flower to another guarantees biodiversity and maintenance of biomes. Fungi and insects share spaces, such as decomposing tree trunks. An important characteristic of the mycelium and sawdust composite is thermal isolation. Bees need to maintain a stable inner temperature in the hive. 
In the project, we make use of the capacity of fungi to create conditions and shelter to invite the native bees to settle in the regions of the Atlantic forest dominated by humans. The project is now experimenting with the several beings involved. Inviting the bees to approach the mycelium samples, investigating mycelium as structural material for the project and inviting humans to participate in this ecology as well. Welcome to RUM_A.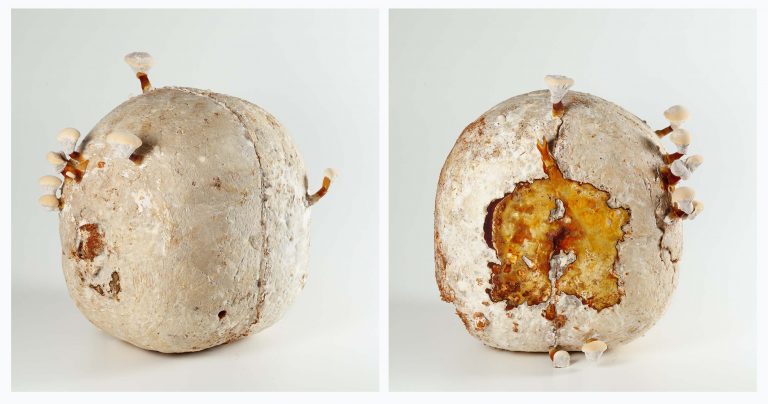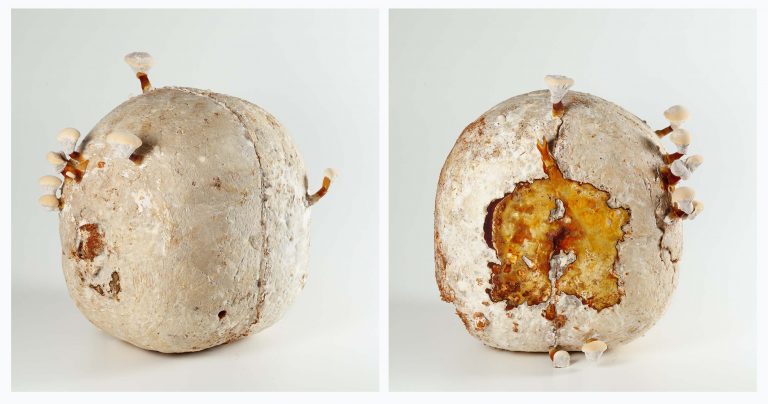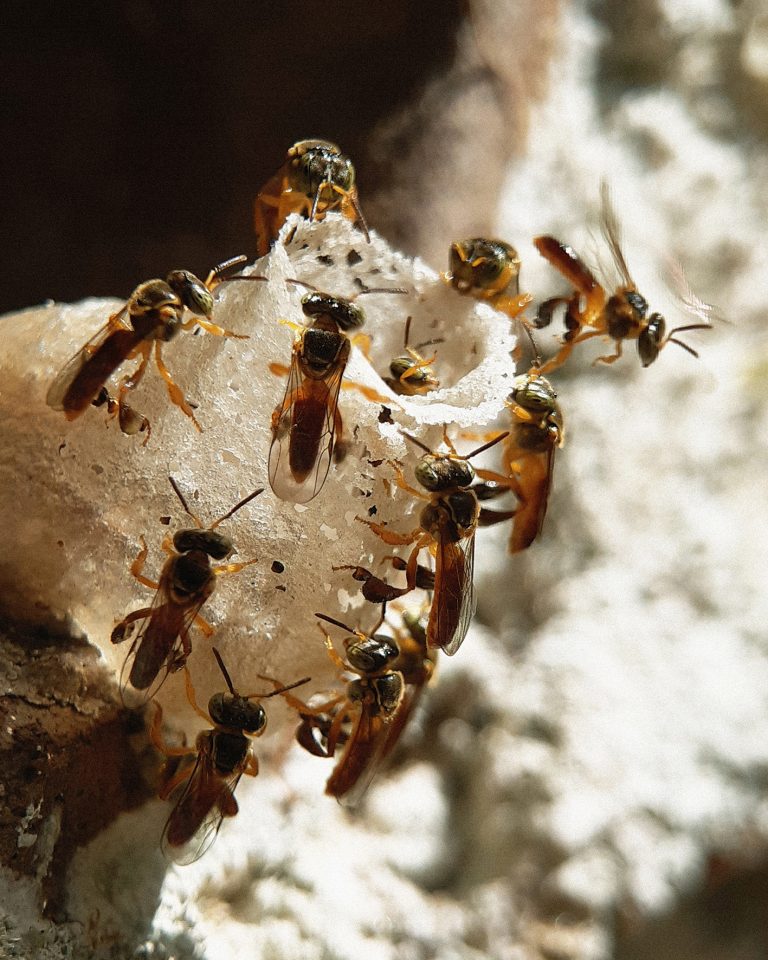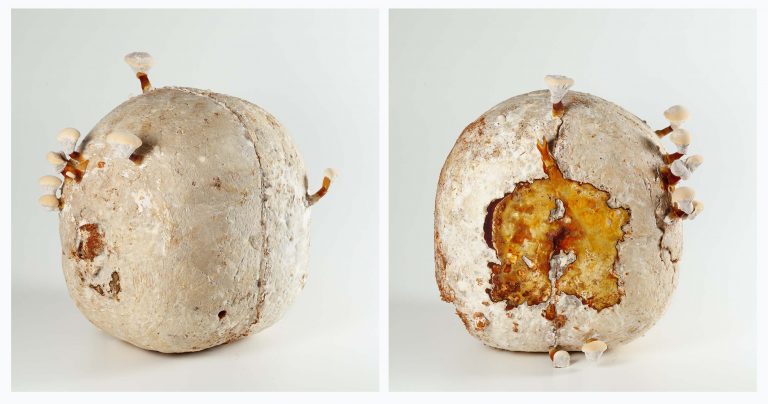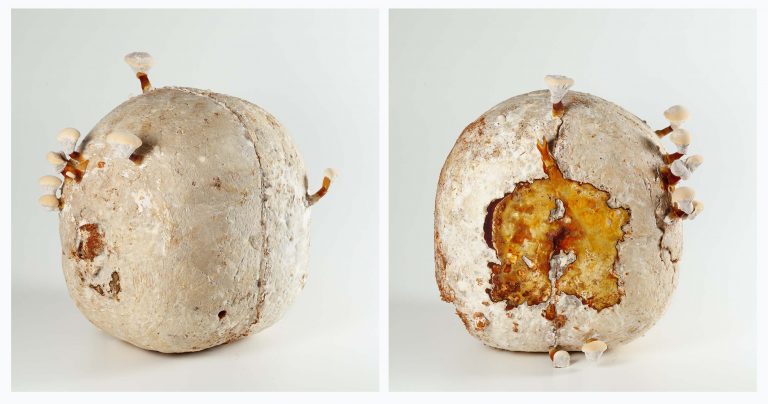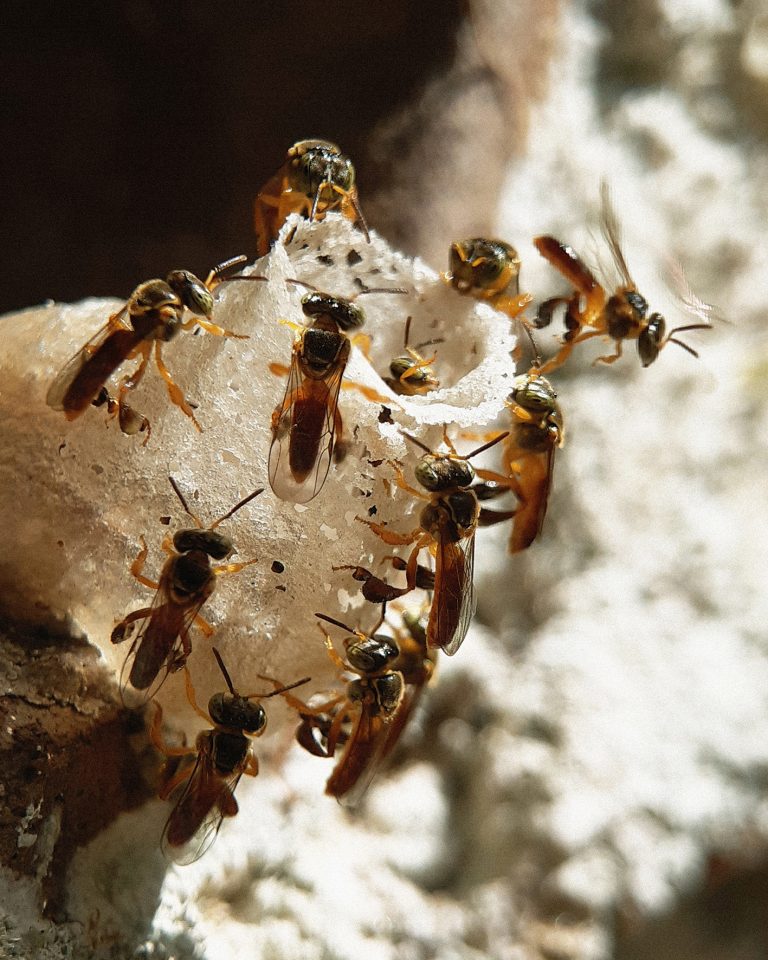 Born and based in Rio de Janeiro, Clara Acioli is an artist, researcher and designer who graduated from the School of Design of the Federal University of Rio de Janeiro (UFRJ). She works at the intersection of the arts, design, biology and contemporary critical studies in search for new understandings of the world we live in. Since 2017, Acioli has been part of and collaborates with NANO lab – Nucleus of Arts and New Organisms, an interdisciplinary laboratory in the School of Fine Arts at UFRJ that articulates art with science and technology. She has been researching organic materials such as biodegradable composites and bioplastics to be used both in artistic and design projects.
(Photo: Elisa Maciel)
Project Credits
Videomaker
Ana Clara Mattoso
Woodworker
Gustavo Moreira
Video editor
Laura Fragoso
Photographer
Lucas Martins
Sound designer
Stephanie Doyle 
Acknowledgments
Jeanine Geammal and Malu Fragoso, my project advisors; Eleonora Fabião and Marta Peixoto for helping with the translations from Portuguese to English; Elisa Peixoto, Maria Lucia Peixoto, Jaime Acioli, Nadine Nicolay, Valter Oliveira and Verônica Aparecida, Robin Mallick (Goethe-Institut Rio de Janeiro) for the support