SEVEN PROTOTYPES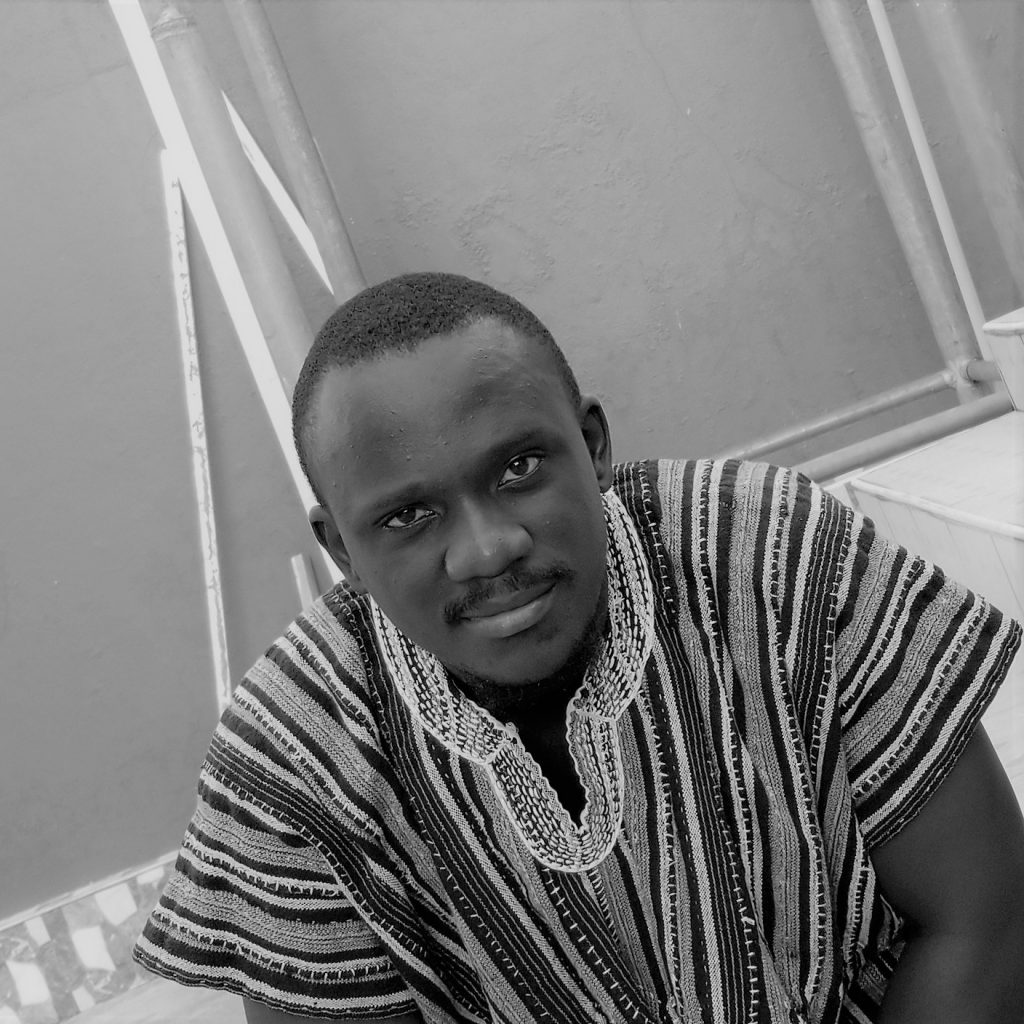 Akwasi Bediako Afrane
Akwasi Bediako Afrane (b. 1990) is a Ghanaian artist living and working in Kumasi, Ghana. His works explore the idea of augmentation and extensions between technological gadgets and humans. He works with discarded electronic gadgets which he refers to as "amputees", refashioning and repurposing them into machines and micro-organisms he describes as "TRONS". These TRONS become potential platforms and media for reflection, engagement and interactions. Stripped bare of their familiar housing, the TRONS become mechanical gizmos subsumed with the consciousness of previous owners of these gadgets and himself.

(photo: Afia Asare)
Anne-Sofie Belling
Anne-Sofie Belling is a designer/technologist who interrogates design futures through practice-based and speculative design research. Her research often focuses on extending human somatic relations and experiences with other-than-humans through emerging technology interventions. She is currently studying a PhD at the HBBE, where she is examining the more-than-human relations of transplanetary imaginaries and off-Earth habitats through practice-based design research.
Bea Delgado Corrales
Bea Delgado Corrales is an environmental microbiologist interested in finding new microbial species through bioinformatics and new DNA sequencing technologies and she is now focused on characterizing the built environment microbiome. During her PhD at the HBBE, she wants to explore the possibility of using the microbial distribution in our homes to promote a healthier environment through building design and other strategies.
Lena Geerts Danau
Lena Geerts Danau is an energetic and curious research architect who engages with political, environmental and planetary issues in a focused and skilful way. Her work has been exhibited among others, at Radialsystem (Berlin), De Gistfabriek (Wijnegem), ZKM (Karlsruhe), and Silent Green (Berlin). While she mainly thinks conceptually via research and design, she loves working with her hands.
Originally she comes from Antwerp, where she also completed her bachelor degree in Architecture. During her Masters, she explored the architectural field at the Bergen Arkitektur hogskole (Norway) and finished her degree at the Royal College of Art (London). In her Master thesis, Lena investigated fluid border situations and investigated the potential of digital environments as a new mode of representation. After working experiences in the architectural field at B-architecten and urbanist/researcher at Maat-ontwerpers, she is now working with Tick Tack gallery, as a carpenter for Studio Bonne, and as part of alternaa – a collective established with Andra Pop-Jurj.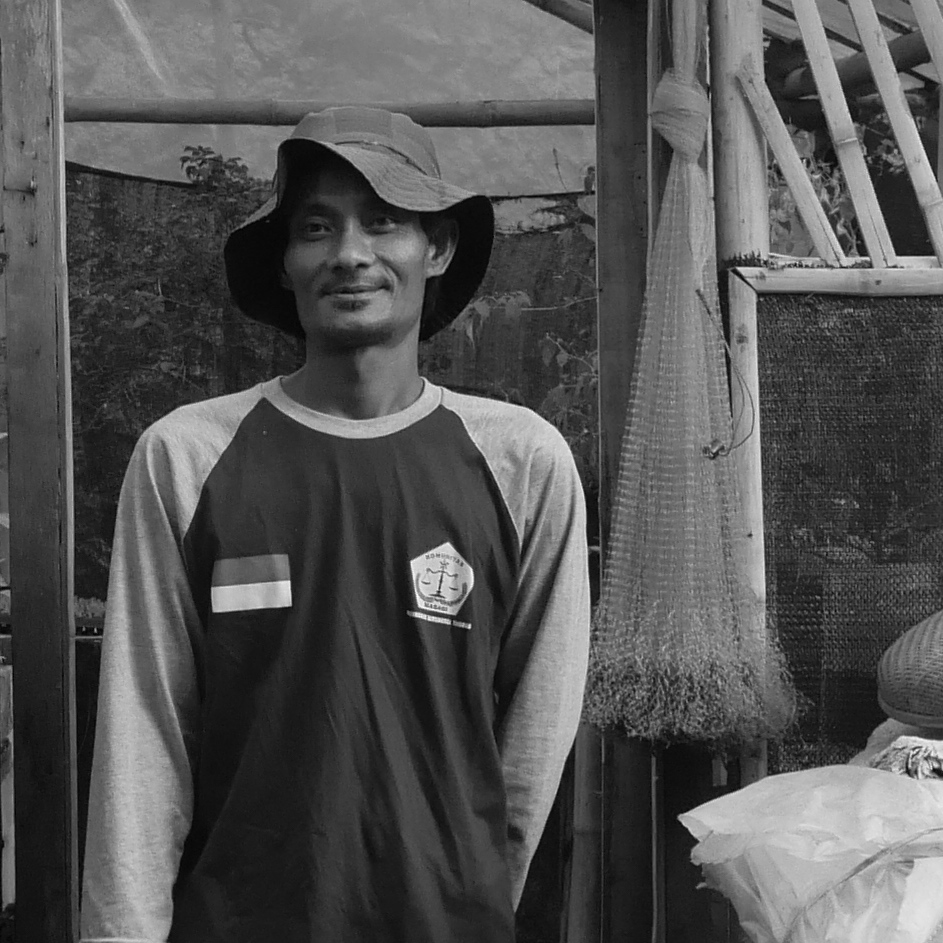 Mang Dian
Mang Dian is an environmental activist that works with the river, waste management and urban farming in Bandung, Indonesia together with Cikapundung Community, Karang Taruna, dan PHL BBWS Citarum. He is now the director of Masagi Community and head of the neighbourhood 04 Cibogo, Bandung. He runs and manages his urban farming activity at his small garden called Urban Organik Farm at Cibogo, Bandung.
Hyeseon Jeong
Hyeseon Jeong is interested in social phenomena of digitalization, new power/network structures, and decentralisation. Her work engages with a wide range of themes, from scientific approaches to political issues. She has generated non-linear narratives by translating and reconstructing the research content from various fields, in a maximization of fictions, radioplay, videos and sounds, entangled under a theme, and then exhibited as part of exhibitions, festivals and sound performances. She is currently studying at Academy of Media Arts Cologne.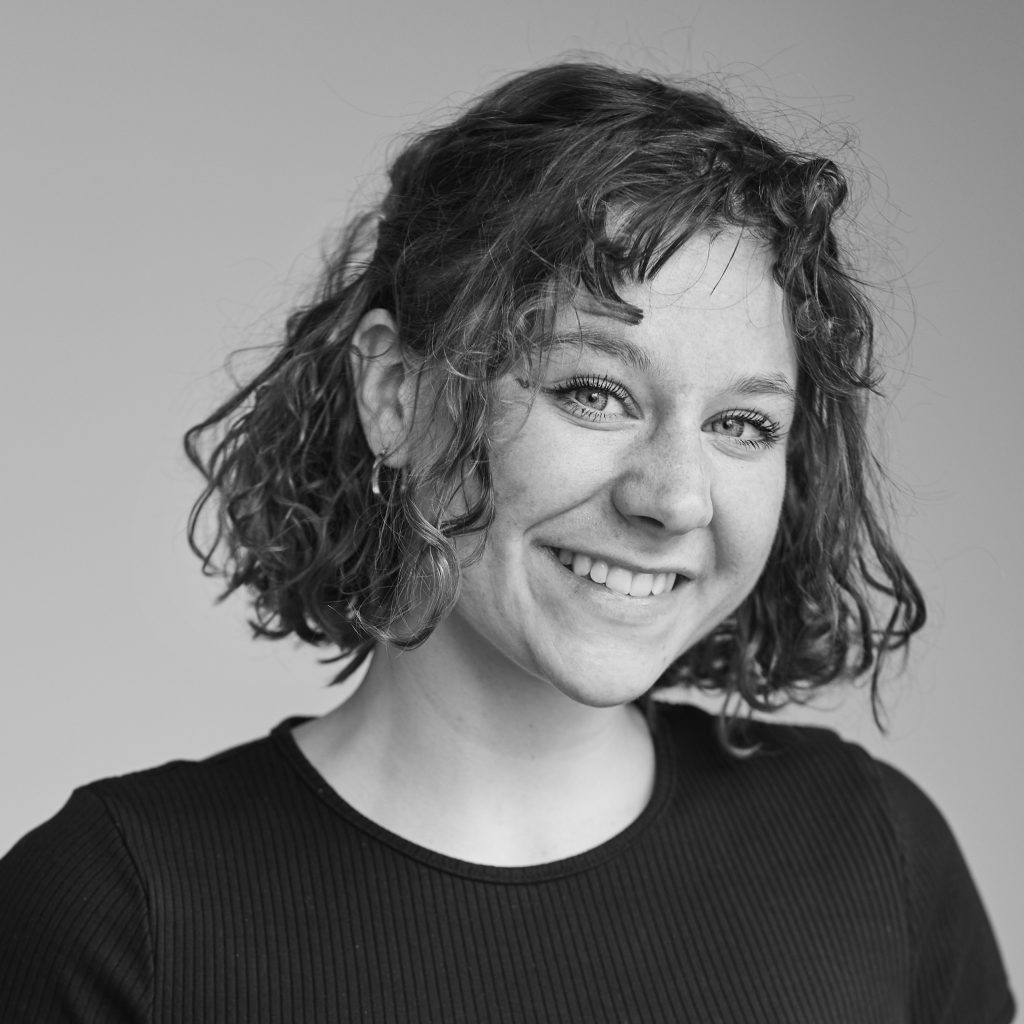 Romy Kaiser
Romy Kaiser is a designer with focus on biomaterials, smart textiles and future textile thinking. As a "designer with hands, scientist in mind, activist by heart" she aims to change our mindset as well as current systems towards a more sustainable living using textiles and materiality as a tool. Currently Romy holds a PhD position at the HBBE. Her project Textile Hosting investigates the scaffolding potential of textiles for living media, like mycelium or bacteria, for bio assembly and construction purposes.
(photo: Daniela Ferro)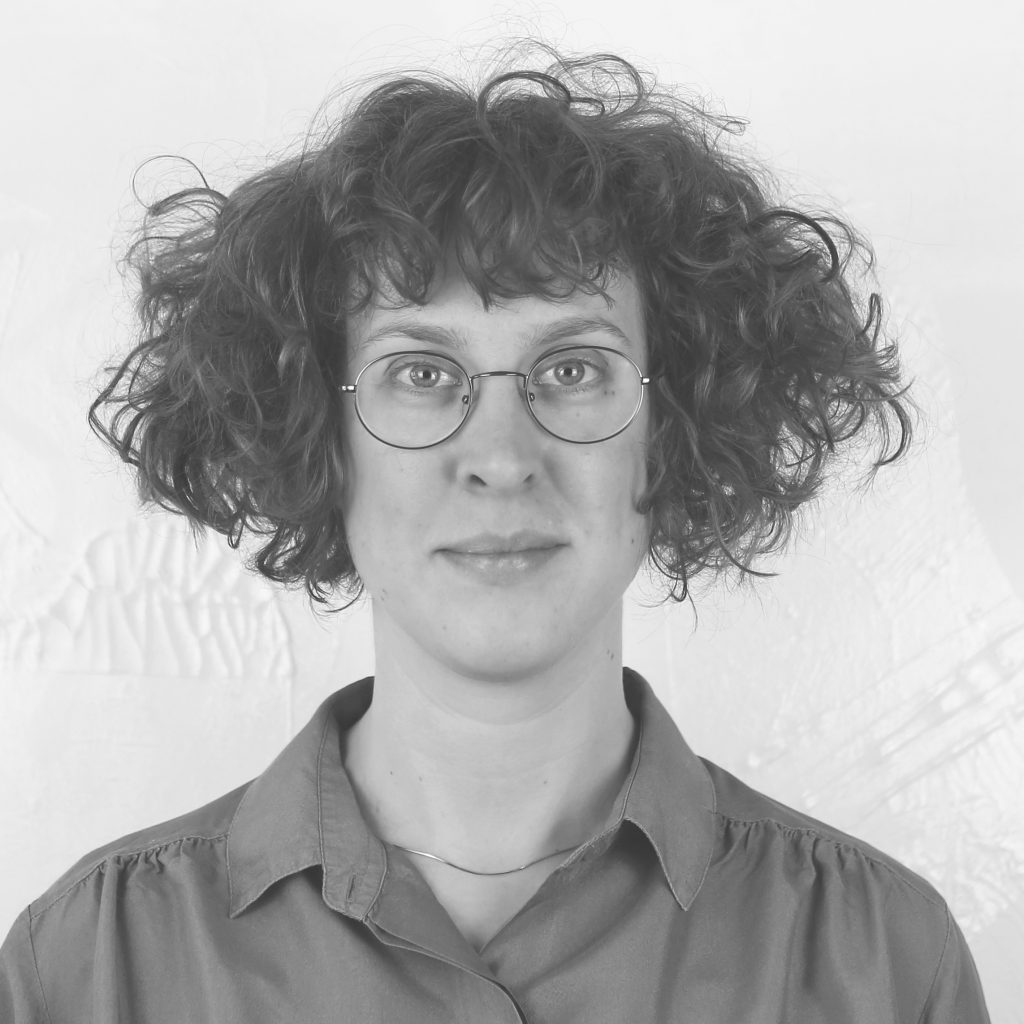 Paula Nerlich
Paula Nerlich is a designer and explorer. With her material research she aims to support the elimination of so-called food waste through the creation of circular biomaterials from industrial food production surplus. In her practise as material designer and as co-founder of Circular Home Lab, she initiates discourse around rethinking systems of waste, the food industry and community. Her PhD project The Materiality of Well-being is a practise-led research project, searching how multisensory experiences and interactions of smell and touch, with a focus on the interrelationship of bacteria, smell and textiles for enhanced wellbeing.

(photo: Marielle Samstad)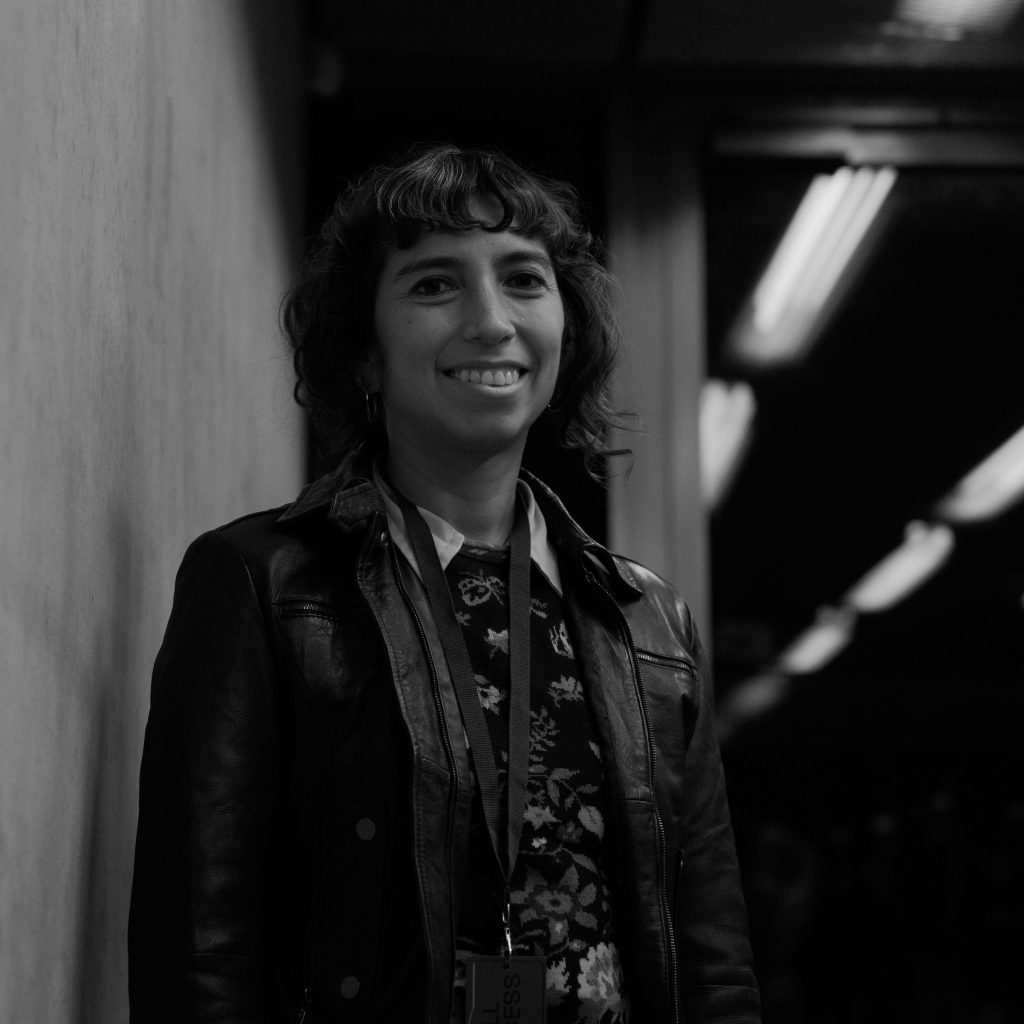 Eliana Otta
Eliana Otta (Lima, 1981) is an artist with a Master in Cultural Studies, who inquiries about our relations with nature and precarious labor in neoliberal, extractivist economies, and also gender inequality, intersecting feminism, poetry and politics. She addresses these questions creating spaces for conversation, trust and curiosity through shared intimacy, with projects that involve pedagogical, curatorial and editorial work. Her current PhD project Lost & Shared: A laboratory for collective mourning, towards affective and transformative politics, aims to investigate the ways in which art can enable the collectivization of mourning, creating dialogues between theory and affective labor, through collective experiments that connect emotions, critical thinking, body and space. She coordinated the curatorial team of Lugar de la Memoria (Museum of Memory) in Peru (www.lum.cultura.pe), has taught at Pontificia Universidad Católica del Perú and co-founded the artist-run space Bisagra (www.bisagra.org). She is currently Candidate at the Phd in Practice Program at the Academy of Fine Arts, Vienna.  She is represented by the Galería 80m2 Livia Benavides. She founded the first shop dedicated to young fashion designers in Lima, Pulga, and has an eternally amateur alter ego, dj Flaquita. 
(photo: Camille Blake)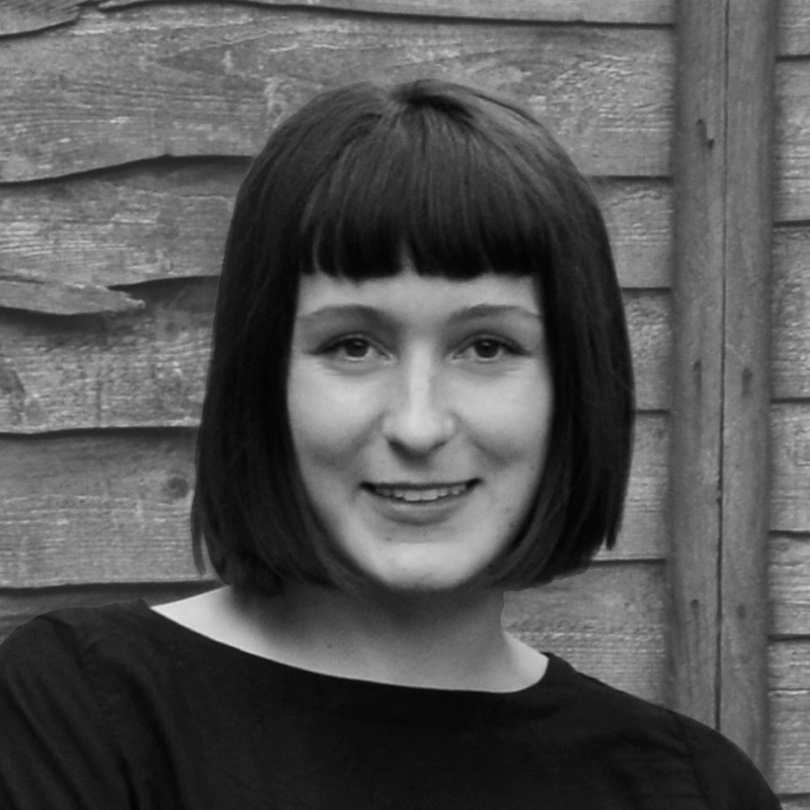 Andra Pop-Jurj
Andra Pop-Jurj is an architectural designer and researcher born in Romania. She trained in architecture at the Technical University of Munich and National University of Singapore and holds a MA Architecture from Royal College of Art. Her diverse and multidisciplinary background have stimulated her interest in the expanding definitions of architecture, research-based worldbuilding and speculative design in digital environments. Her MA work explores the spatial manifestation of geopolitical conflicts in the Arctic region caused by environmental degradation. Building upon this, Andra further investigated the tension between extractive economies, wildlife and and permafrost landscapes based on forms of multispecies cohabitation encountered in the natural gas infrastructures of the Yamal peninsula.
Andra has practiced at several architecture studios in Germany, at Sergison Bates architects in London and the Belgian studio Veldhuis architectuur. She is currently a researcher with Forensic Architecture, where she has worked on investigations into border violence between Greece and Turkey, where natural processes have been weponised to assist in human rights violations. Alongside this, her spatial practice is situated at the intersection of arts and science and employs various formats ranging from writing, drawing and mapping to films, game engines and spatial installations. 
Andra is currently expanding her research and enquiry into forms of multispecies cohabitation together with Lena Geerts Danau as part of the Driving the Human arts and science collaboration.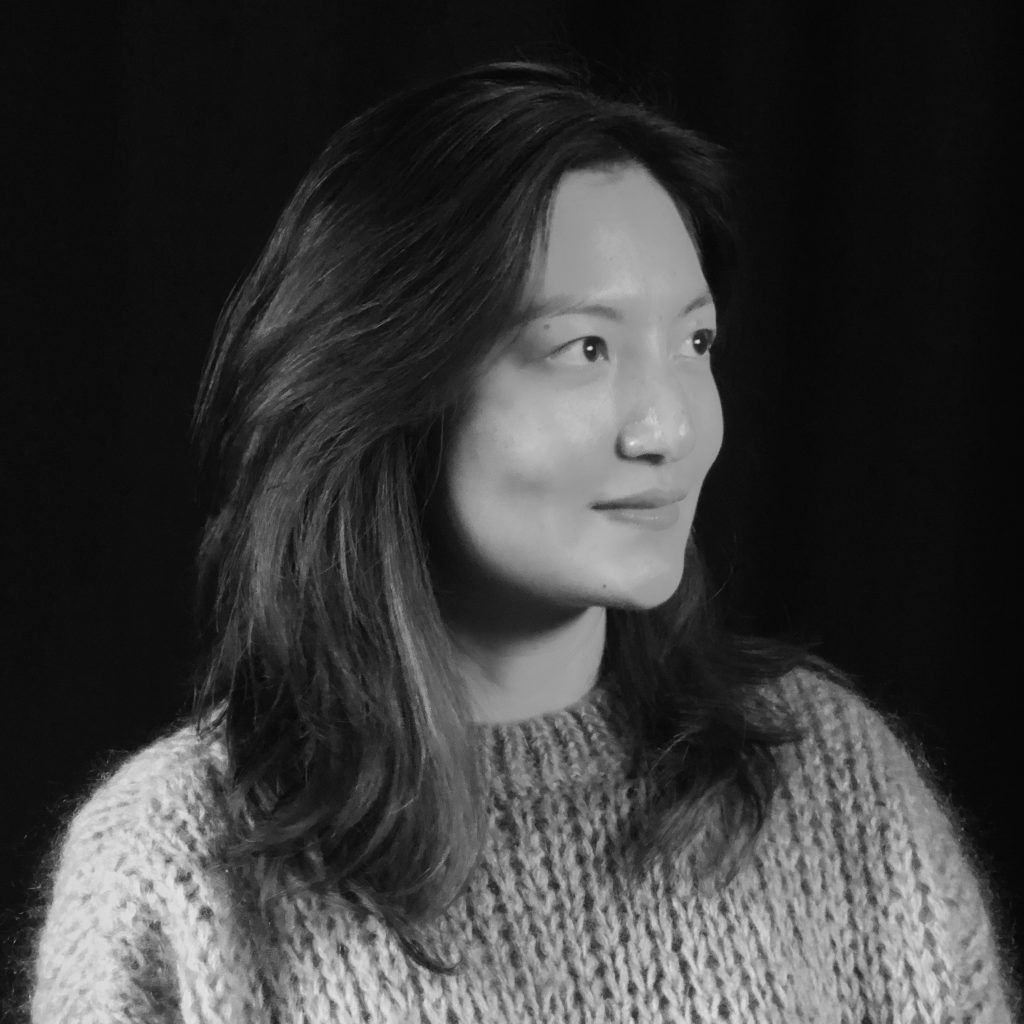 Xiaoyu Iris Qu (曲晓宇)
Xiaoyu (Iris) Qu (曲晓宇, b. 1993, China) is an artist, technologist, and programmer based in Brooklyn, NY, working at the intersection of software engineering and new media art. With code as her primary medium, her works engage with the speculative, political, and poetic aspects of technology. Currently, she works on prototyping experiments at Google Research. Do AIs Dream of Climate Chaos started from her reflection on the entanglement of technology and nature and her role in speculating change as a tech worker.

(photo: Xinyu Li)
Vincent Rumahloine
Vincent Rumahloine is a contemporary artist that playfully interrogates the social fabric and the mundane in society. His work mainly revolves around people; from social issues, human rights, traditional values, human relations, collective memories to re-designing historic narratives. Rumahloine is the winner of the sixth Bandung Contemporary Art Award 2019. His winning project Don't Call Me A Hero was exhibited in the Latiwangi Art Gallery in Bandung and tells the story about an Indonesian exile in Prague, who lost his citizenship after the 1965 tragedy. Vincent's work bridges the gaps in society by adding a twist of uncanniness and by using artistic strategies to get closer to the experiences and lives of (non-art minded) others. Vincent graduated in Ceramics at The Bandung Institute of Technology in 2009. He worked as an art teacher and as a social worker with HIV/AIDS victims, before becoming a full-time artist. His project has been presented at Pulosari Public Space in Bandung, Contemporary Ujazdowksi Castle in Warsaw (Poland) and The National Gallery of Indonesia in Jakarta.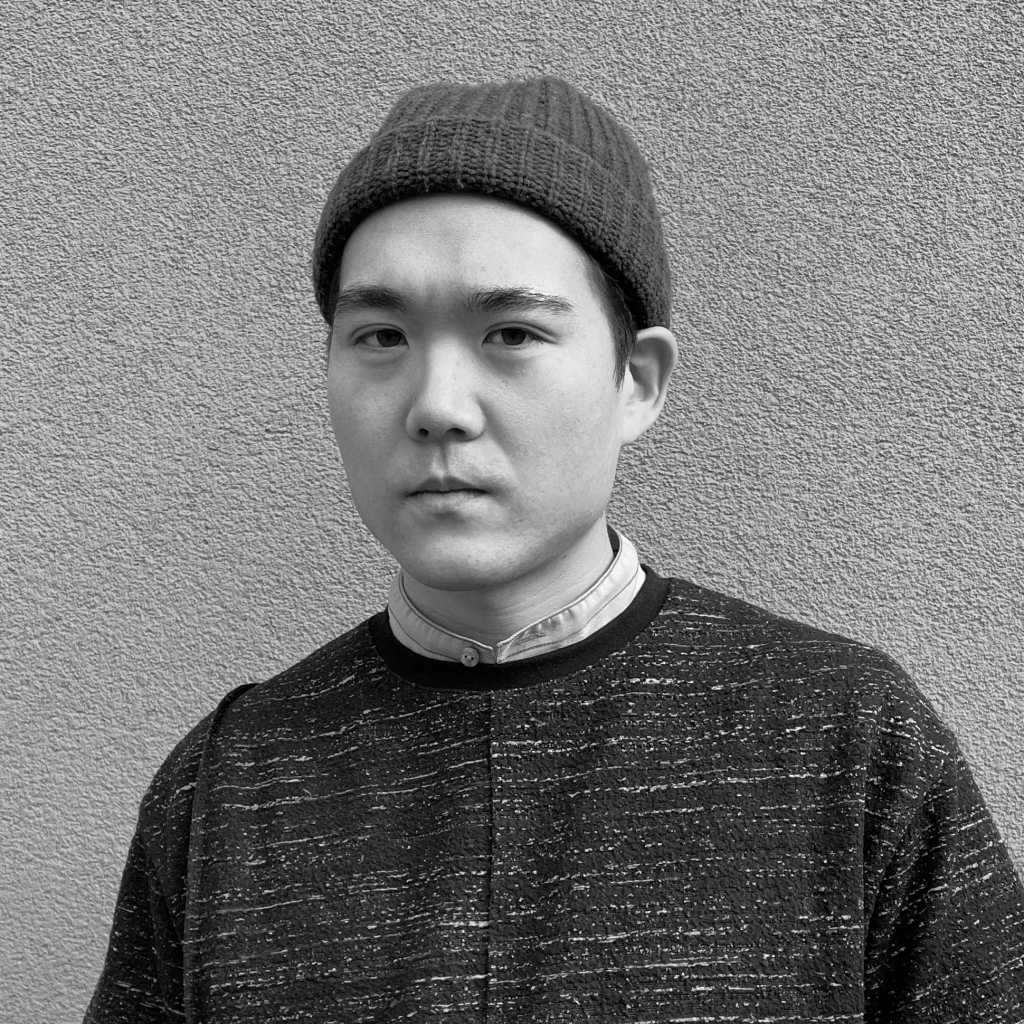 Seongmin Yuk
Seongmin Yuk is an artist, interested in notions of de(re)constructing boundaries, space and physical embodiment, interdependent perception, transboundary, posthumanity, and digital transhumanity. Seongmin Yuk looks for the possible nodes networking through those notions, (de)composes the intersections through his videos, performances, installations, and constructed spaces. He is currently studying at Academy of Media Arts Cologne
EXPERTS
Kim Albrecht
Kim Albrecht visualizes cultural, technological, and scientific forms of knowledge. His diagrams unfold and question the structures of representation and explore the aesthetics of technology and society. Kim is a principal researcher at metaLAB (at) Harvard, director of metaLAB (at) FU Berlin, and holds a Ph. D. from the University of Potsdam in media theory. As a design researcher, Kim Albrecht explores the boundaries of visual knowledge in the post-digital age. Working and living in Berlin, Kim exhibited, among others, at Harvard Art Museums, MIT List Visual Arts Center, Four Domes Pavilion Wrocław, Ars Electronica Center, Cooper Hewitt, Cube design museum, ZKM Center for Art and Media Karlsruhe, Kaestner Gesellschaft, The Wrong Biennial, Istanbul Contemporary Art Museum, and Kunsthaus Graz.
Brigitte Baptiste
Brigitte Baptiste is a Colombian biologist graduated from the Pontificia Universidad Javeriana, with a Master's degree in Tropical Conservation and Development from the University of Florida. She is Doctor Honoris Causa in Environmental Management from Unipaz University and was recently awarded with an Honoris Causa degree in Law from the University of Regina.
She was the director of the Alexander Von Humboldt Biological Resources Research Institute for nearly 10 years and currently serves as the President of the Ean University, a higher education Institution focused on sustainable entrepreneurship.
She is considered an expert on environmental and biodiversity issues and is an important leader in gender diversity, being recognized for its participation at international congresses related to these topics. It has also been a reference in the achievement of important bridges between politics, academia and science and was chosen as one of the 25 world experts of the Intergovernmental Platform for Biodiversity and Ecosystem Services (IPBES) between 2016 and 2019.
Tatiana Bilbao
Tatiana Bilbao, architect, born in 1972, began her eponymous studio in 2004. Prior to founding her architecture studio, was an Advisor in the Ministry of Development and Housing of the Government of the Federal District of Mexico City. Bilbao holds a recurrent visiting teaching position at Yale University School of Architecture and has taught at Harvard University GSD, Columbia University GSAPP, Rice University, AA in London Summer School, University of Andrés Bello in Chile, and Peter Behrens School of Arts at Dusseldorf in Germany. Bilbao's studio has work across typologies and in different parts of the world, for which she has been recognized with several distinctions, among those: the Kunstpreis Berlin in 2012, the Global Award for Sustainable Architecture Prize by the LOCUS Foundation in 2014, the Marcus Prize Award 2019, Tau Sigma Delta Gold Medal of the ACSA 2020, Honorary Fellow of the Royal Architectural Institute of Canada (RAIC) 2021, and the Richard Neutra Award in 2022.
(photo: Ana Hop)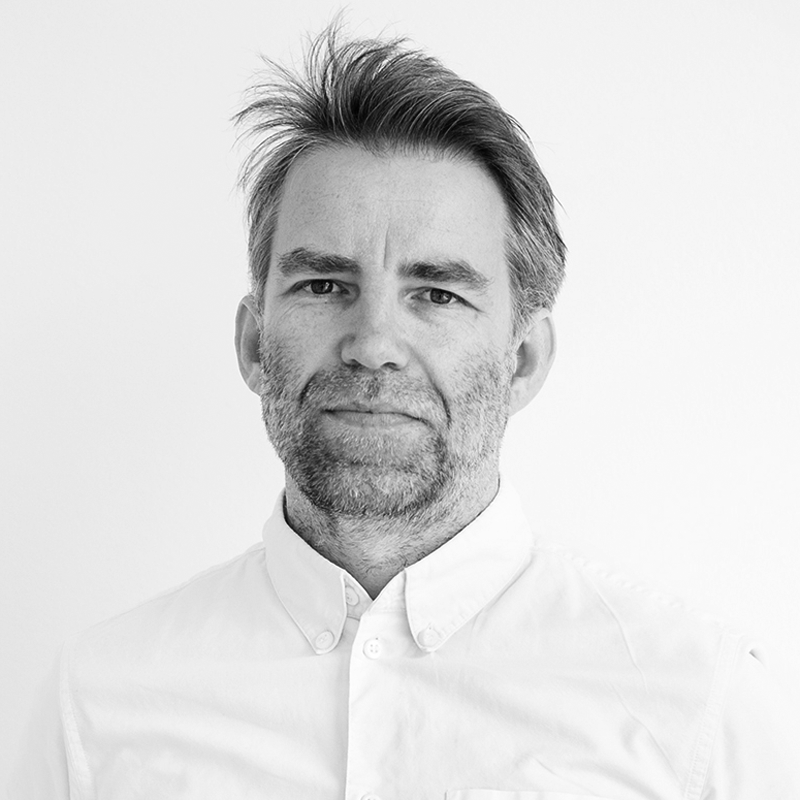 Jan Boelen
Jan Boelen is a curator of design, architecture, and contemporary art. He is artistic director of Atelier Luma, an experimental laboratory for design in Arles, France. Boelen studied Product Design at the Media & Design Academy in Genk and is the founder and former artistic director of Z33 – House for contemporary art in Hasselt, Belgium. He was curator of the 4th Istanbul Design Biennial in Istanbul (2018) and initiated Manifesta 9 in Belgium (2012). Over the years he has been fashioning projects and exhibitions that encourage the visitor to look at everyday objects in a novel manner. Boelen recently edited Social Matter, Social Design: For Good or Bad, all Design in Social (Valiz, 2020), and his writing addresses the implications of design in everyday life, and how artistic practices shape the discipline. 
(Photo: Veerle Frissen)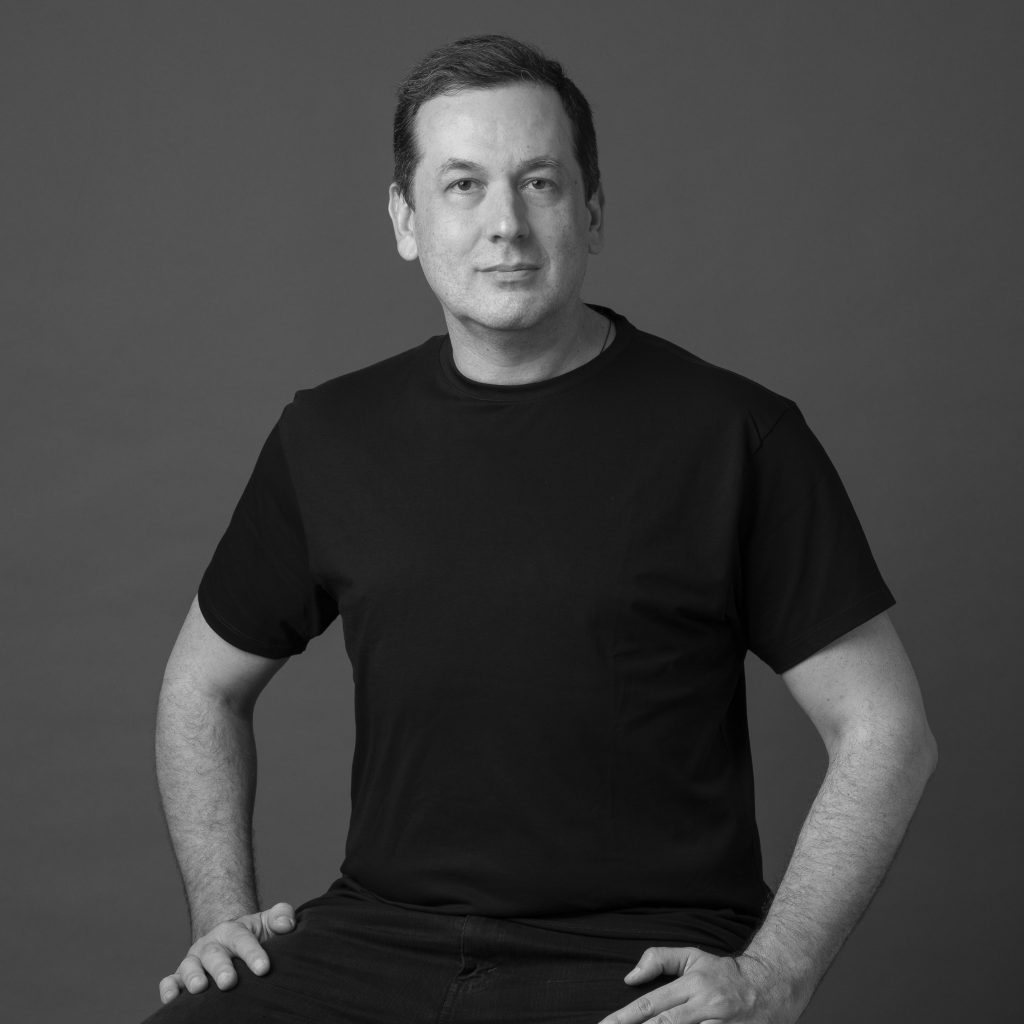 Washington Fajardo
As president of the Rio World Heritage Institute, Mayor's Advisor for Urban Issues, or Chief of Urban Planning, from 2009 to 2022, Washington Fajardo created policies to preserve heritage, regenerate buildings and places, and improve public awareness of traditional communities' wisdom in Brazil. His innovations ally memory, culture, and future crafting new imaginations for the city and spatial justice.
Fajardo created the Carioca Design Center and the African Heritage Trail. He has won design awards for Ver-O-Peso rehabilitation in Belém, in the Amazon Region, Pavuna Arena Theater, and the New Imperator, an old movie theater converted to a cultural venue.
He's the author of Urban Transformations and Avenues of Rio and collaborates with O Globo newspaper.
Recently, Fajardo has been devoted to his research on Favelas 4D, with MIT Senseable City Lab, aiming to create a digital twin for informal settlements.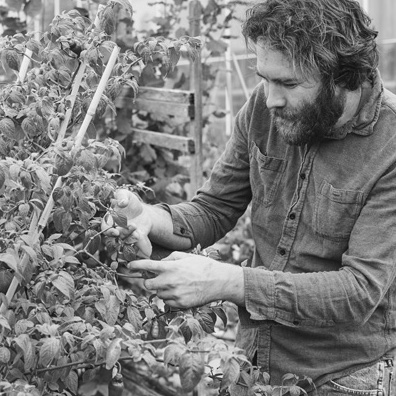 Alexander Hicks
Alexander Hicks was born 1983 in Houston, Texas, and is an expert when it comes to chilis, starting his chili eating career before he even turned one. At 14 years old he started cooking with chilis, and shortly after that he started growing this plant. Finding many interesting new varieties from all over the world he has grown over 2000 different varieties over the years. Recently, he introduced his chili passion to an array of people by presenting interesting facts in many outlets, such as social media and in different TV shows.
Hicks organic grown chili plants received awards at major garden shows, and his presentations in schools show young people the different aspects about this plant that has a cultural impact all over the world.  
With experience in renewable energy and agriculture, he is now exploring energy efficient growing environments to produce crops. One project is a rooftop Greenhouse with a cradle 2 cradle concept that will be able to produce fresh chilis year-round, with a minimum of external energy.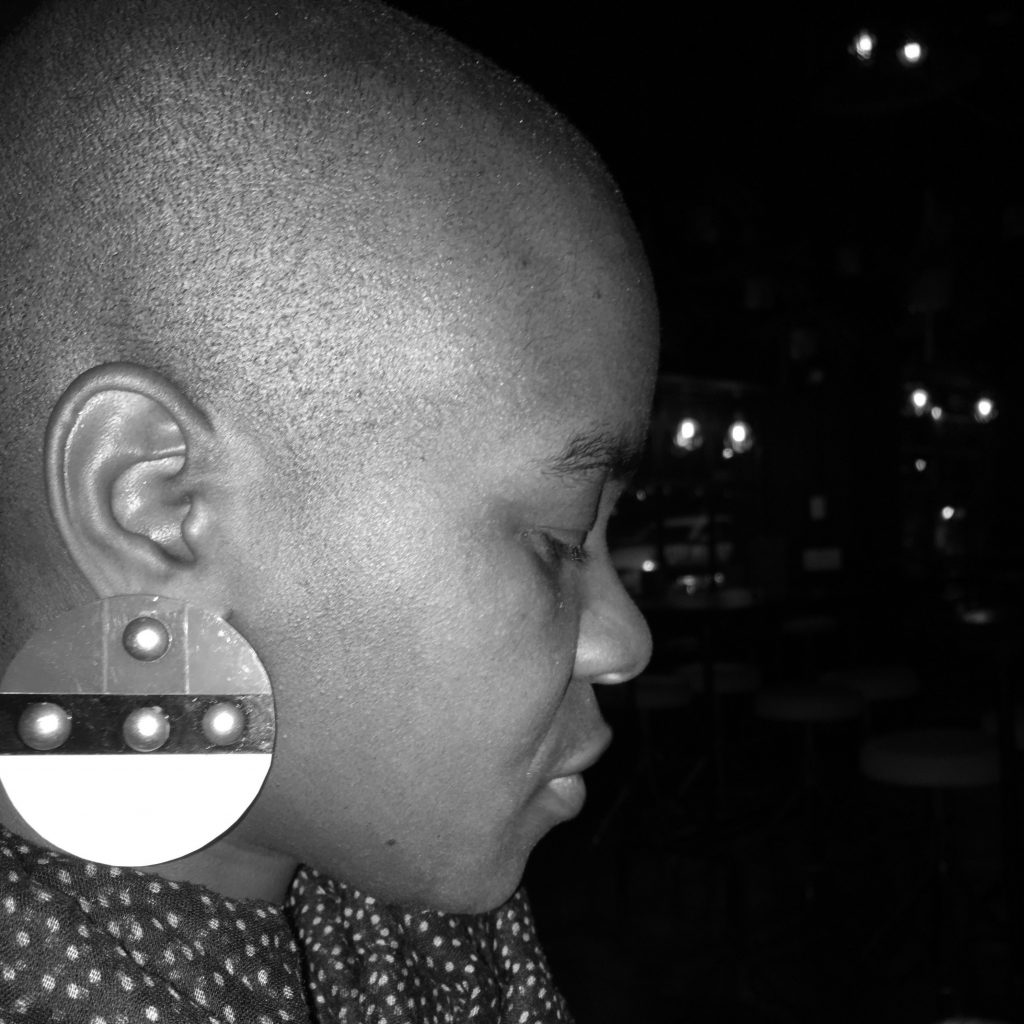 Kabelo Malatsie
Kabelo is a curator and organiser living in Bern. She recently became director of Kunsthalle Bern (April 2022). Her ongoing curatorial research project explores the exhibitionary mode as unlikely starting points that place incongruous practices together, to instigate other ways of making and reading the world we inhabit. As an organiser she is preoccupied with the notion of autonomy and the underground. She was director of Visual Arts Network of South Africa (2018-2019) and an associate in the curatorial team at Stevenson gallery in Cape Town and Johannesburg (2011 – 2016). She co-curated the exhibition Deliberation on Discursive Justice for the Yokohama Triennale (Japan 2020), participated In the Open or in Stealth for Barcelona's MACBA (Spain 2018), and curated solo exhibitions across various institutions in South Africa for artists such as Nicholas Hlobo, Moshekwa Langa and Sabelo Mlangeni. Malatsie holds a Master's degree in Art History from the University of Witwatersrand.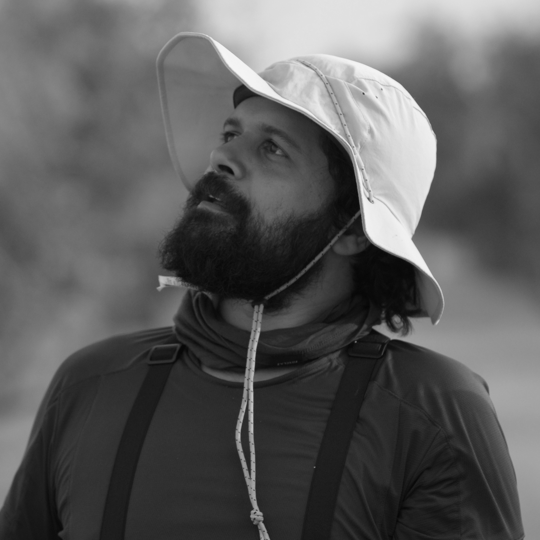 Hemal Naik
Hemal Naik is a postdoctoral researcher at the Max Planck Institute of Animal Behavior. Hemal's research focuses on developing software to study animal behavior using technologies like computer vision, augmented and virtual reality. 
Along with scientific projects, Hemal is deeply interested in sharing scientific findings with the community through public talks and collaborative art projects. 
He is working on several art projects that focus on wildlife and conservation with independent artists (Akademie Schloss Solitude) and institutions such as Merz Akademie.
Corine Pelluchon
Corine Pelluchon, Philosopher, professor at Gustave Eiffel University (in Paris Region) and currently Fellow at The New Institute in Hamburg, Germany. Specialist in political philosophy and applied ethics (bioethics, philosophy of the environment and animal ethics). Author of fifteen books, most of which have been translated into other languages, she received the Günther Anders Prize for Critical Thinking in February 2020 for her whole work.  She has been heard about 30 times by the French Parliament, the Senate or by political parties for questions related to the end of life, to the support of people with disabilities, to the animal cause and to the ecological transition. For this theoretical and practical work, she was named Knight of the Legion of Honor in July 2021. Latest books : Les Lumières à l'âge du vivant, Seuil, 2021 ; Paul Ricoeur, philosophe de la reconstruction. Soin, attestation, justice, PUF, 2022. Forthcoming in January 2023 : L'Espérance ou la traversée de l'impossible.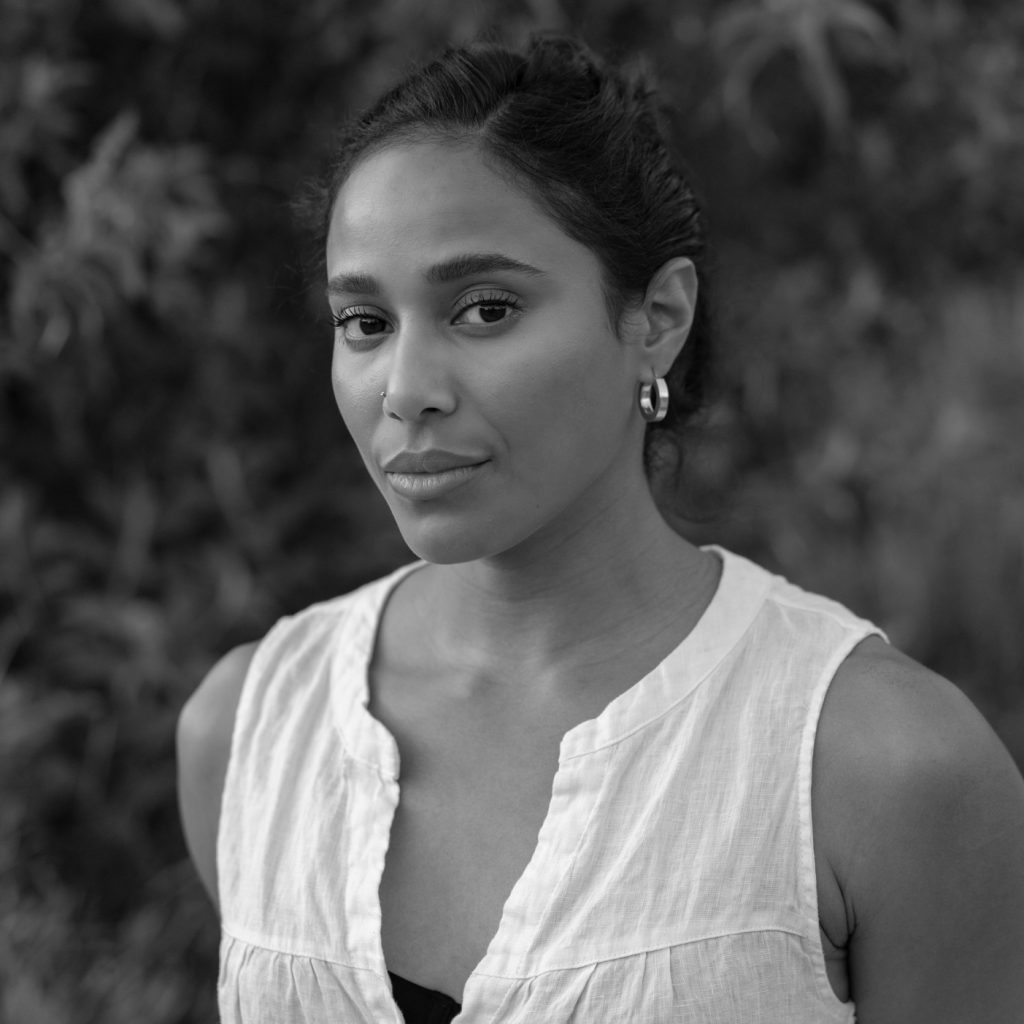 Suzanne Pierre
Dr. Suzanne Pierre is soil microbial ecologist and biogeochemist, a writer, and transformer of social systems.  She is the founder and the lead investigator of the Critical Ecology Lab, a nonprofit organization creating novel processes and spaces for communities of people with scientific and generational knowledge to destabilize oppressive systems and fight back against escalating social and planetary disaster. She received an interdisciplinary B.A. in Environmental Studies from New York University, a Ph.D. in Ecology and Evolutionary Biology from Cornell University, and was a University of California President's Postdoctoral Fellow at UC Berkeley. Her technical expertise is in applying molecular and stable isotope approaches to characterizing the biophysical mechanisms controlling nutrient and carbon cycling in plant and microbial systems experiencing climate change. Pierre is a transdisciplinary scientist developing the new field of critical ecology, the study of basic ecological processes through the analytical lens of decoloniality and social liberation theory. Her goal is to explain the phenomena of global ecological change as responses to systems of global colonialism and capitalism. Pierre speaks and writes about the intersections identity, liberation, and ecology in publications such as MOLD, Loam, and a forthcoming nonfiction book. She also collaborates with artists and curators to convey these topics through art and exhibitions internationally. She is a 2022 recipient of the National Geographic Wayfinder Award and is a National Geographic Explorer.
Margit Rosen
Margit Rosen studied art history, political science, philosophy and media arts at the Ludwig Maximilians University Munich, the Karlsruhe University of Arts and Design (HfG), and the University of Paris I (Panthéon-Sorbonne). She has been research associate and curator at the ZKM | Center for Art and Media Karlsruhe since 1999. Together with Christian Schön, she also curated the lothringer13/halle, the Municipal Art Gallery, Munich in 2002–2003. In 2016 she was appointed Head of Collections, Archives & Research at ZKM.
Margit Rosen taught at HfG | University of art And Design Karlsruhe, at CAFA Beijing and is a faculty member of the Master's program MediaArtHistories at the Danube University Krems. In 2011 and 2013, she was a visiting professor at the Art Academy Münster. She publishes on 20th and 21st century art, art and politics and the history of the electronic arts.

(photo:  Felix Grünschloss)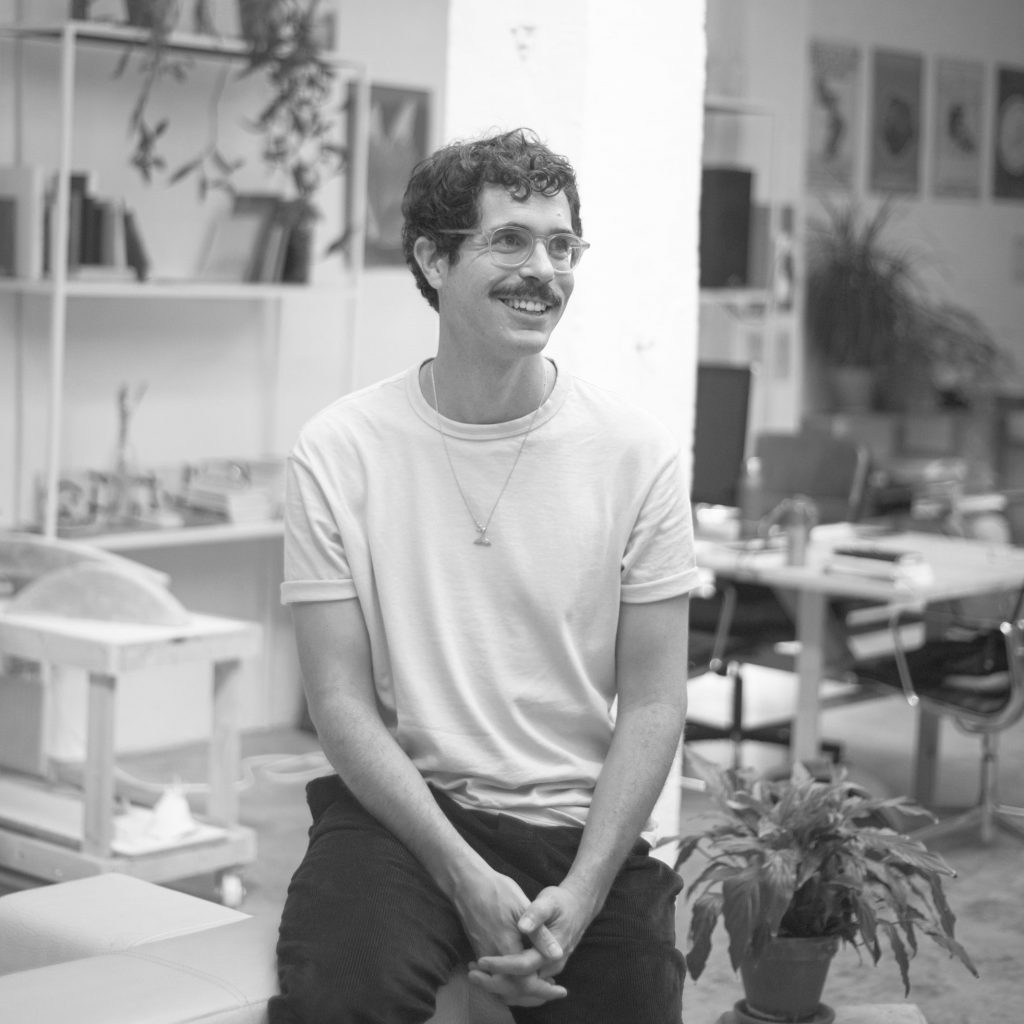 Yuri Tuma
Yuri Tuma is a Brazilian multidisciplinary artist focusing on the investigation of contemporary narratives related to diverse ecologies through sound art, installation, and performance as a way to address and reevaluate the human/animal binomial imposed by science, politics, and culture. In line with his artistic concerns, in 2020 he co-founded the Institute for Postnatural Studies, a center for artistic experimentation from which to explore and problematize postnature as a framework for contemporary creation. More actively, besides project management, curating, and academic programming, Tuma coordinates the Institute's publishing project, Cthulhu Books, to become a showcase for the political potential of imagining new worlds and possible futures for the planet through academic and artistic research. In addition to participating in residencies and coordinating workshops around interspecies thinking and practices, he collaborates in educational and mediation programs with Spanish institutions such as the Museo Nacional Centro de Arte Reina Sofía, La Casa Encendida, Matadero, and INLAND, among others.
(photo: Irene Baqué)
MODERATORS / ACTIVATORS
Song Tae Chong
Song Tae Chong PhD is a New York City and Berlin based educator and curator.  Currently a Trustee of the Martin Parr Foundation, Song focuses on praxis based curatorial work and theoretical practice.  As the former Director of Milk Gallery in Chelsea, Song mounted over 40 exhibitions and numerous special projects. She is part time faculty at NYU where she specializes in postcolonial visual culture and history and theory of photography. She also teaches in the MFA Program at Parsons in NYC and was a visiting lecturer at Fordham University.  Her research interests include epistemologies of memory, photographic theory, architecture and landscape photography, decolonizing the archive, and 20th century documentary photography.  Her practice includes curation, zine and book publishing, artist advisement, research and exhibition design.
Daniel Cremer
Daniel Cremer appears as performance artist, writer and somatic explorer. The experiential spaces he creates are focused on intimate encounters between bodies, words, ideas and gestures. Addressing his audiences directly, Daniel is using cheeky humor, altered states of consciousness and a criticial reflection of the status quo in order to investigate shared moments of alertness and social imagination.
Working freelance in this field since 2007, his most recent work has been produced at theaters like the Maxim Gorki Theater Berlin, Mousonturm Frankfurt (Main) and Nationaltheater Mannheim. He toured internationally and was invited to renowned festivals like Radikal Jung in Munich (2020) and the Stückemarkt at Berliner Theatertreffen. In 2015 he received the Preis der Autoren for the invention of immersive performative simulations in a made-up language called Fremdsprache under label TALKING STRAIGHT. He co-founded the eponymous theatre group which he was part of until 2017.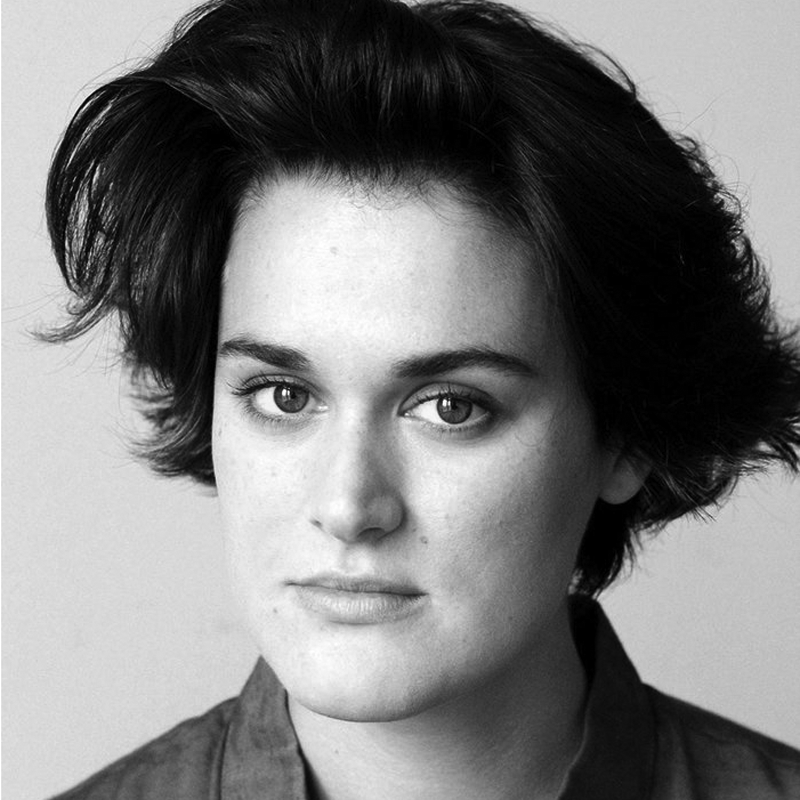 Ariana Dongus
Ariana Dongus is a media scholar, journalist and teacher based in Berlin and Karlsruhe. In exploring the intersection of biometrics, colonial pasts, new forms of work, and machine intelligence, she contributes to a critique of today's digital economies.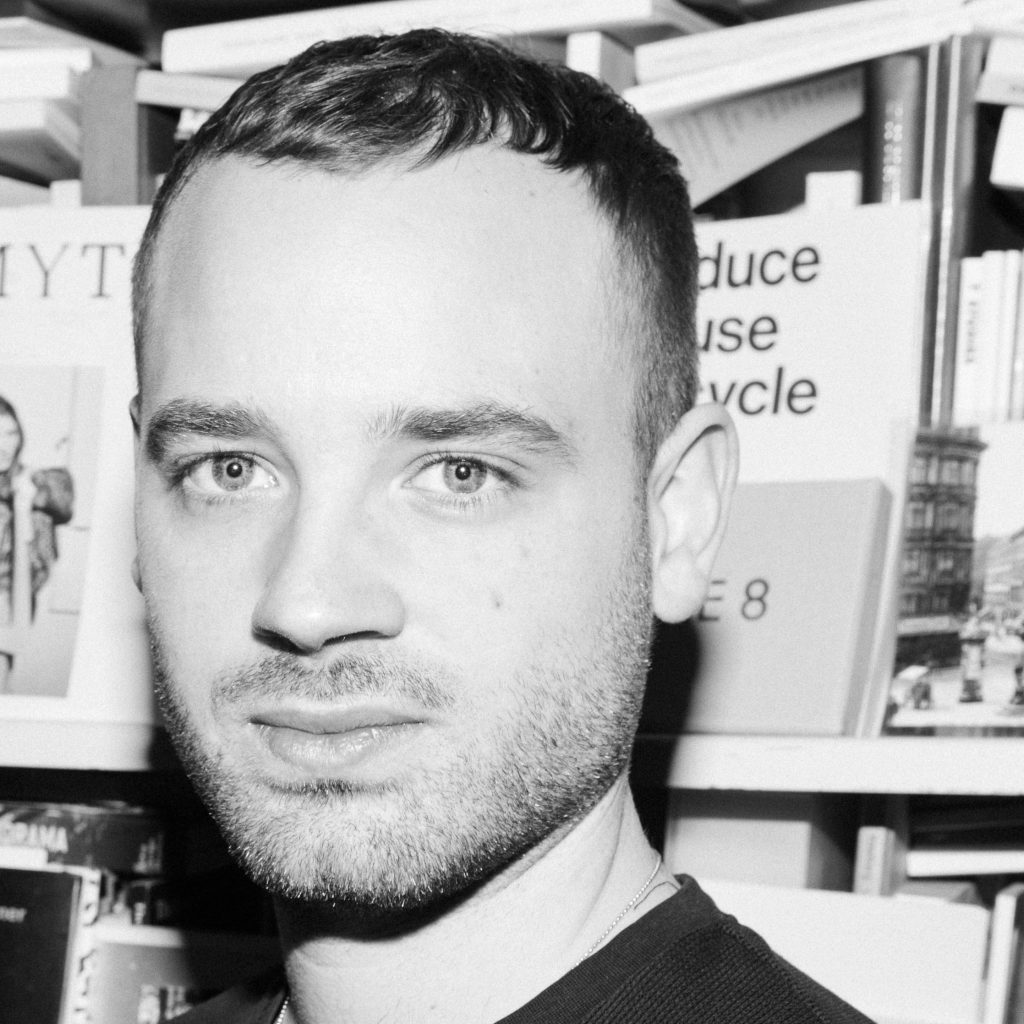 Anton Rahlwes
Anton Rahlwes is the editor-in-chief of form magazine together with Nina Sieverding since 2020. Trained as a designer at FH Potsdam, he writes, produces and designs with a focus on social issues specially in the tension between critical practice and speculative theory. At his alma mater, he taught in the context of gender design - a subject close that is close to his heart. He is co-founder of the Berlin-based furniture label OUT - Objekte unserer Tage. For the internationally active label he was responsible for the visual appearance of the brand, various designs, and trade fair appearances at the IMM Cologne. He is currently devoting himself to aesthetic theory and its interconnections with a current concept of design.
(photo: Eike Walkenhorst)
Vera Sacchetti
Vera Sacchetti is a Basel-based design critic and curator. She serves in a variety of curatorial, research and editorial roles, most recently as program coordinator for the multidisciplinary research initiative Driving the Human (2020-2023) and curator of the initial edition of architecture festival Archipelago: Architectures for the Multiverse (2021). She is co-curator of TEOK Basel and one half of the curatorial initiative Foreign Legion. Sacchetti was associate curator of the 4th Istanbul Design Biennial, A School of Schools, curatorial advisor for the BIO 50 Biennial of Design in Ljubljana, Slovenia, and, as part of editorial consultancy Superscript, headed the "Towards a New Avant-Garde" event series at the 2014 Venice Architecture Biennale. She has recently edited Design as a Tool for Transition: The Atelier Luma Approach; and Design As Learning: A School of Schools Reader. Her writing has appeared in Disegno, Metropolis, and The Avery Review, among others. Sacchetti teaches at ETH Zurich and HEAD Geneva, and in 2020 joined the Federal Design Commission of Switzerland.
(Photo: Nici Jost)
Nina Sieverding
Since 2020, Nina Sieverding is running form Magazine together with her co-editor-in-chief, Anton Rahlwes. She studied design in Braunschweig, Bremen and Valencia and interned at Bauhaus Dessau Foundation and in the graphic department of Zeit Campus magazine. As a journalist, copywriter and graphic designer she has worked, among others, for Typo Berlin and the Berliner Festspiels. She has received awards from ADC Germany and Deutscher Designer Club (DDC).
(photo: Eike Walkenhorst)
Antje Stahl
Antje Stahl works as a staff writer for the Swiss publication Republik and as a lecturer at the Institute for the History and Theory of Architecture, ETH Zürich. In her texts and teaching, she takes a feminist and eco critical approach towards the field of art and architecture, which was awarded with "Michael-Althen-Prize for criticism", among others. She studied art history and philosophy in Berlin, Paris and New York and worked as the head editor for Architecture at Neue Zürcher Zeitung. 
Chloe Stead
Chloe Stead is a Berlin-based writer and editor specialising in contemporary art. Her writing has appeared in publications such as Artnet, frieze, Mousse and Spike Art Magazine. Stead also regularly contributes to artist monographs and has taken part in or moderated talks at Damien & the Love Guru, Brussels, Vienna Contemporary, Hamburger Bahnhof, Berlin, Kunstverein Hamburger Banhof, Hamburg, and Migros Museum, Zurich. She studied fine art at Goldsmiths University of London and HFBK University of Fine Arts Hamburg. 
LINA FELLOWS
Tevi Allan Mensah
Tevi Allan Mensah (b. 1998) is an architect and a visual artist graduated from the École Nationale Supérieure d'Architecture (Ensa) of Lyon. After completing two semesters in Madrid at the I. Politecnico of Francisco Vitoria University, in 2020, Tevi returned to France to work for the architecture and design workshop Ciguë. Tevi develops his own practice in the space between the architectural project and artistic creation, where eclectic mediums cohabit: from furniture to the scale of the territory, from built projects to research projects. He is interested in the imaginaries of displaced and borderlands territories, as well as the possibility of architecture as a collective mean of communication.
He is currently teaching at the Ensa Lyon in the framework of the master studio "Utopie/Dystopie".
Jonathan Steiger
Jonathan Steiger (*1997 in Switzerland) is an artist based in Amsterdam. With a wide-ranging approach that includes video, sculpture and writing he works on the topics of landscape, aesthetics and ecology. In his current projects he traces the collapse of the notions of the natural and the cultural within the landscapes of the anthropocene. He holds a BA in Fine Arts from the Zurich University of the Arts and is currently part of the Studio for Immediate Spaces at the Sandberg Instituut Amsterdam. He is a 2022-23 fellow of LINA European Architecture Platform.
Studio Inscape
Trained as architects and urbanists, Studio Inscape aims to translate eco-philosophical theory to practice within the built environment. They are based in Rotterdam, the Netherlands, and experienced in designing spatial strategies, installations and experiences that focus on human-non-human interactions.
(Photo: Jord de Kat Angelino (Studio Angelineau))
MUSICIANS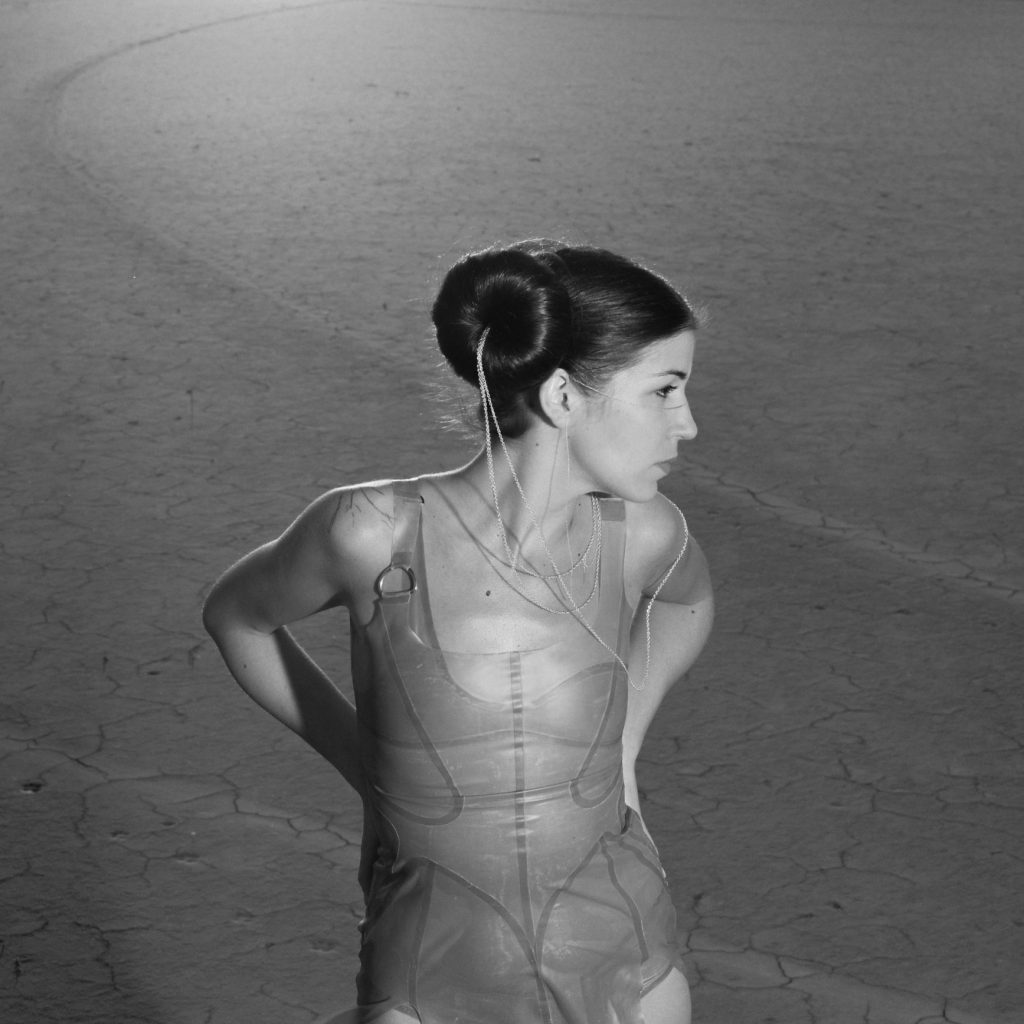 Marina Herlop
Marina Herlop sheds the classical trappings of her accomplished previous albums Nanook andBabasha to emerge in vibrant, polymorphous form on her hypnotizing new album Pripyat, out May 20, 2022 via PAN. With Pripyat the Catalonian, conservatory trained composer, vocalist, and pianist channels her environment in truly posthuman form; Herlop performs alien vocal acrobatics, drawing inspiration from Carnatic music of Southern India, while planting a diversity of sonic seeds which blossom brilliantly in her sumptuous garden of chimeric compositions, produced for the first time exclusively electronically. Herlop blew the audience away with her ensemble's Rewire debut this April and will be performing at Primavera Barcelona and LA, CTM, Mutek, Dekmantel and Le Guess Who? amongst other notable upcoming events worldwide in 2022, with more exciting news soon to be shared.
(photo: Anxo Casals)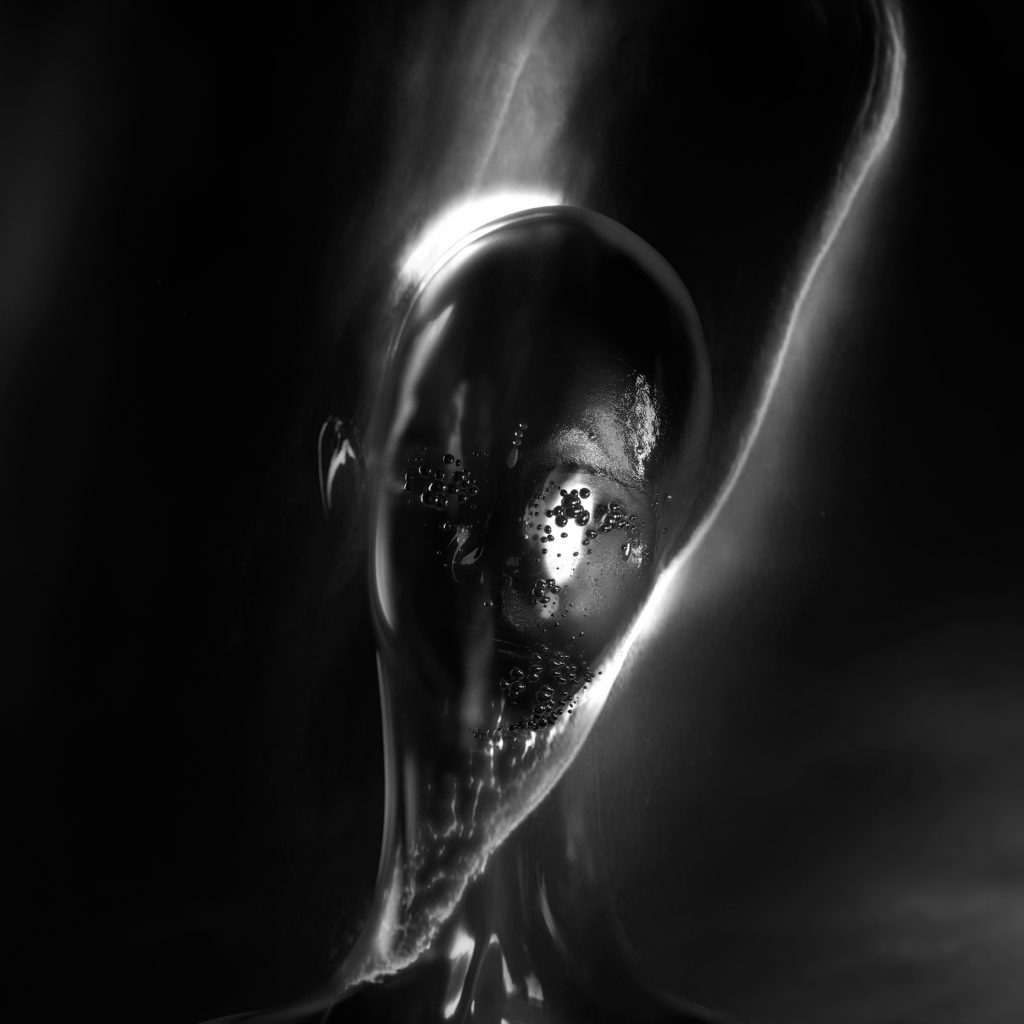 Low Khey
Low Khey is an unidentified human machine. The music of the artificial anthropoid is juggling between epic choirs, cutting-edge trap and pre-apocalyptic soundscapes. A mutation of sonic expressions across deadly clever integrations of trap, drill, post club and soundtrack elements. The result is rich and more complex yet very precise and readable owing to Low Khey's most destructive weapon: the lethal ability in sound design.
With its last EP Ten Effective Ways To Achieve Immortality, Low Khey team up with the Berlin-based producer and singer Catnapp and also the French producer Enae. Those collaborations seal the deal with humanity. Perched on a faraway planet, Low Khey's artificial intelligence reached its final form and looks at Earth with benevolence. Through a puzzling cyber noir storytelling, LK teach us how to overtake our inevitable programmed death. The machine learning process is complete, it's now time for Human learning.
The whole project has hidden references to artificial intelligence and problems that human are facing regarding the technology. The world in which Low Khey lives is dominated by machines, and mankind is having a rough time to say the least, as revealed is first EP  Never Trust A Cyborg.
PARTNER REPRESENTATIVES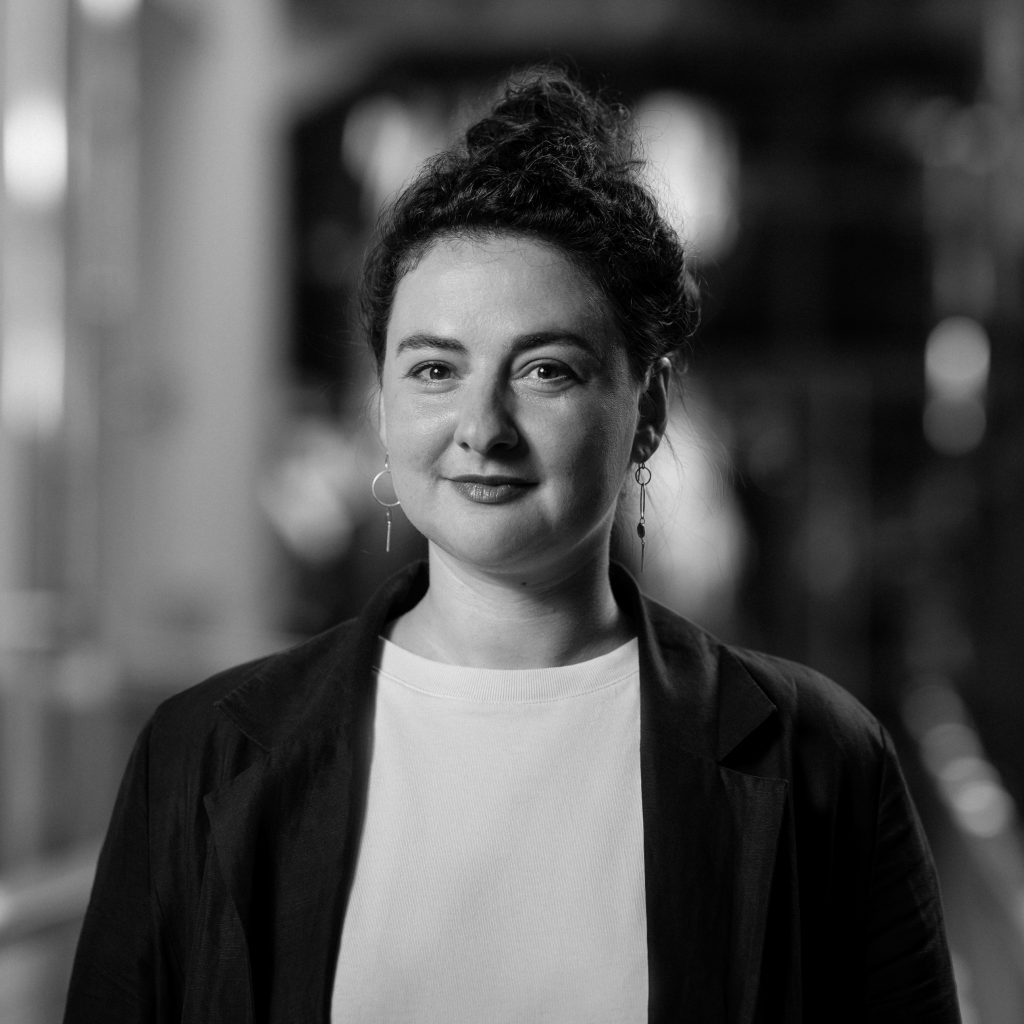 Sarah Donderer
Sarah Donderer is a curator focusing on the intersections of art, science and technology. After studying art history and sociology in Munich, she worked as a coordinator and curatorial assistant at Kunstverein München and completed her academic traineeship at Deichtorhallen Hamburg. She has been involved in various exhibitions and art projects among others at the design museum Die Neue Sammlung in the Pinaktothek der Moderne in Munich and the Deutsches Hygiene-Museum Dresden. Since 2020 she has been holding the position of a curator at the ZKM | Center for Art and Media Karlsruhe and has co-curated and co-coordinated the digital opening festival of the scientific and artistic collaboration project Driving the Human. 
(photo: Felix Gruenschloss)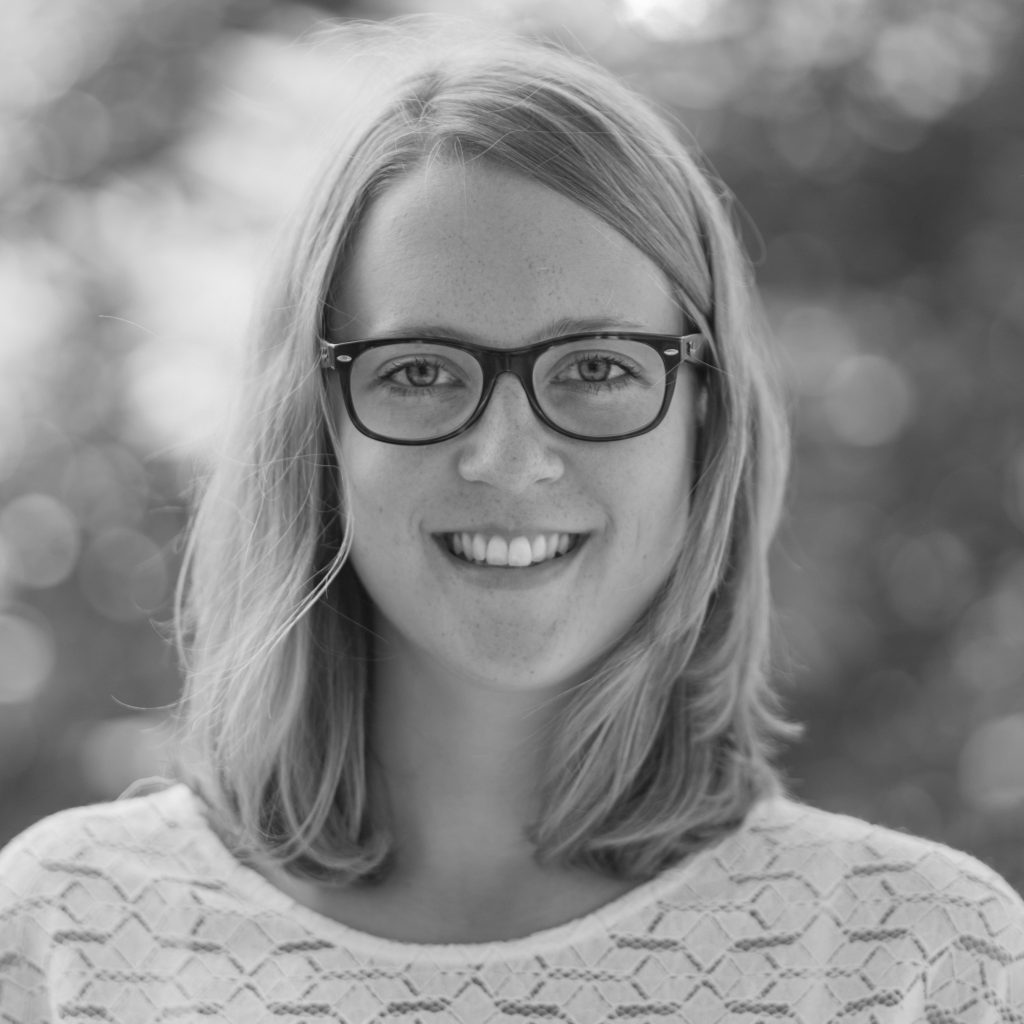 Sandra Fendl
Sandra Fendl is a scientific advisor at acatech, the German Academy of Science an Engineering, where she translates and communicates complex science to the public. She is an author for the acatech HORIZONS series, which addresses cutting-edge technology fields in a manner that is scientifically robust yet still clear and easy to understand. Furthermore, she co-coordinates the science-art collaboration project Driving the Human. Before her work at acatech, she studied biology in Regensburg and Munich and received her PhD from the Max Planck Institute of Neurobiology where she contributed to the understanding of the fruit fly's brain. Besides her scientific work, she was engaged in the Max Planck PhDNet as a podcast host discussing diversity and inclusion in academia.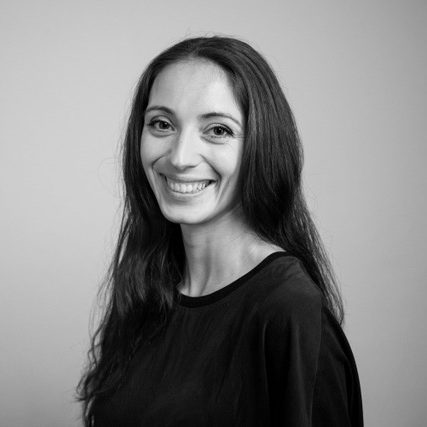 Julia Ihls
Julia Ihls is an interdisciplinary researcher and designer at the intersections of (natural-)philosophy, media theory and scenography. After studying art/media studies (M.A.) in Konstanz and Cork, and scenography/media art (Dipl.) in Karlsruhe, she worked as a concept designer and writer, among others for the ZKM Karlsruhe. Since April 2021, she is the head of the Bio Design Lab at the HfG Karlsruhe, where – besides teaching and curating – she researches on new (bio-)materials and convivialism.
Freo Majer
Freo Majer is the founder and artistic director of Forecast, an international mentorship program that transcends disciplines and geographical locations to connect cultural practitioners with renowned mentors.
Trained as an opera director, Majer looks back at a career as a director and producer in European theaters, opera houses, and at festivals, including at Mainz State Theater, Lucerne Theater, Bremen Theater, and the international festival "Theater der Welt." Driven by his own experience, and recognizing a gap in the type of support available to cultural workers, he changed paths and founded Forecast in 2015.
Together with curators and festival directors from various European cities, he initiated the interdisciplinary research project Housing the Human (2017-2019). In 2020, Majer began a three-year collaboration with the ZKM and HfG in Karlsruhe and the National Academy of Science and Engineering acatech, developing prototypes on the eco-social research program Driving the Human.
(Photo: Annette Koroll)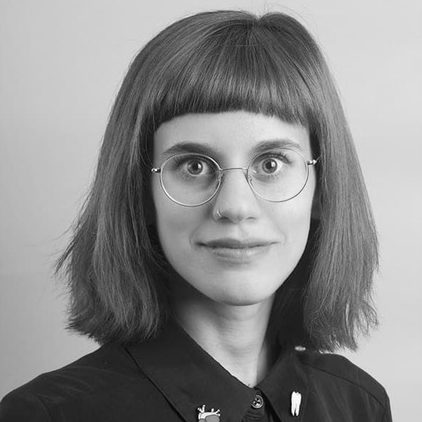 Anthea Oestreicher
Anthea Oestreicher is an interdisciplinary designer and researcher working on the threshold between science and art. With a diploma in visual communication from Darmstadt and working as an Art Director, she is a narrator, combining content and form and craft practice.  
She is interested in the concepts around interspecies dependencies, symbiotic design and co-laboration, the role of food, and systems change in the face of ecological crisis.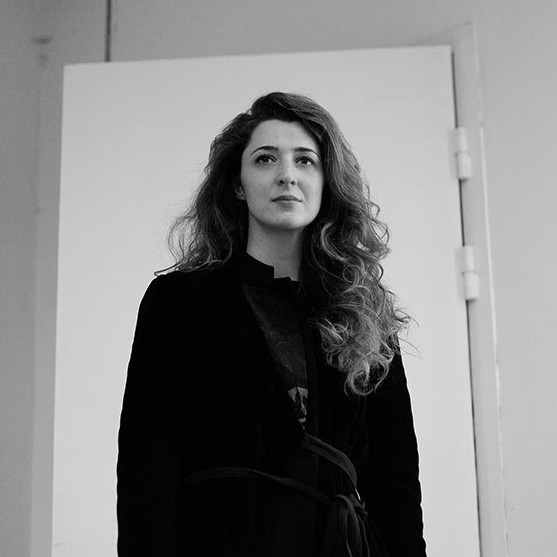 Daria Parkhomenko
Daria Parkhomenko is the founding director of LABORATORIA Art&Science Foundation (from 2008), the first exhibition and research centre in Russia focused on constructing platforms of interdisciplinary interaction between contemporary art, science, and society. She is the author of the Know-How Methodology of integrating artists and scientists into each other's fields. She has curated over 30 international art&science exhibitions, and more than 20 interdisciplinary conferences and symposia on the topics of AI, Quantum Physics, Climate Change, Big Data, Biochemistry and other. Her curatorial projects were held in Russia and abroad: in Tretyakov Gallery, Moscow, Garage, Moscow, ММОМА, Moscow, Polytechnic Museum, Moscow, Itaú Cultural, Sao-Paulo, Brazil, Riga, Latvia. She is also the author of the course Methodologies and Practices of Science-Art. Daria served as a jury member for: Prix Ars Electronica, Austria; Crespo Foundation for 'ArtNature/NatureArt' residency, Germany; Innovation award in the field of contemporary art, Russia. She studied sociology, art history and cultural management at Lomonosov Moscow State University and Moscow School of Social and Economic Sciences. Currently, she is residing in Germany and works at ZKM.
Martina Schraudner
Martina Schraudner is head of the Fraunhofer Center for Responsible Research and Innovation and of the department Gender and Diversity in Technology and Product Development at the Technical University of Berlin. From 2018-2021, she was on the board of directors of acatech - German Academy of Science and Engineering e. V. She deals with methods, instruments and processes that make diversity, understood as different perspectives, accessible and usable in research and development. Schraudner is active in expert groups for Structural Change of the European Union and national and international selection committees for application-oriented research and innovation projects. She is a member of the Council of the University of Paderborn, of the Board of Trustees of the European Academy for Women in Politics and Economics (EAF) and the Board of the Competence Centre Technology-Diversity-Equal Opportunities e. V.
(Photo: Vera Christoph)
Philipp Ziegler
Philipp Ziegler is a curator in the field of art and technology. He is currently the head of the Curatorial Department at ZKM | Center for Art and Media Karlsruhe, Germany, and has been responsible for numerous exhibitions there since 2012. He curated or co-curated several international projects such as the ifa (Institute for foreign Relations) exhibition Future Perfect. Contemporary Art from Germany which has toured internationally since 2013. In 2018 he was one of the curators of the 6th Guangzhou Triennial at the Guangdong Museum of Art, Guangzhou, China. Ziegler has written articles and essays in various magazines and catalogues and was recently the co-editor of the publication Digital Imaginaries. African Positions Beyond Binaries. He studied art history and history in Stuttgart, Germany and Milan, Italy.

(photo: Felix Gruenschloss)
LOCAL INITIATIVES
Floating Kidsuni
The Floating University Berlin in the Kreuzberg retention basin is a place for experiments between art and ecology, where action in the context of the climate crisis is practically explored. The Children's University programme invites young people to act, research and reflect on the city, art and space. Young people, artists and scientists come together in different settings to explore, talk about and play with different possibilities in the rainwater basin. The participation at the Driving the Human event is with Ute Lindenbeck, Lena Düspohl and Jade Dreyfuss. 
Ute Lindenbeck coordinates and directs, with Sabine Zahn and Anja Fiedler, the Floating Kidsuni, apart from working as a freelance stage and costume designer since 2003 and developing theatre projects on current issues in urban society. Lena Düspohl creates encounters in the context of performative art and theatre education and has developed various projects in public spaces. Jade Dreyfuss works collaboratively in the fields of cultural education, artistic mediation and documentation, theater staging and exhibition production, in the alternative scene. She is an active member of the Floating University association where she develops workshops for children on learning through art and non-human life. 
(Photo: Fanny Frohnmeyer)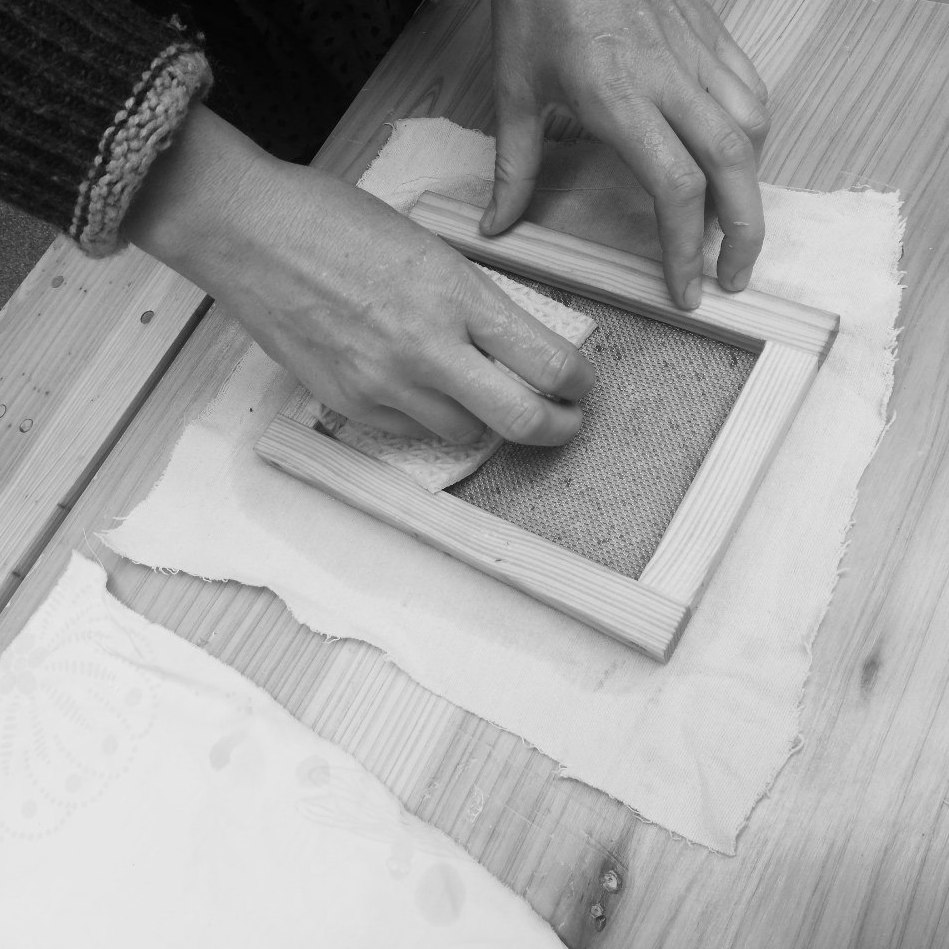 Kulturlabor Trial&Error
Kulturlabor Trial&Error e.V. is a non profit organization and intercultural collective with an open projectroom for neighborhood activities. They have been working for 12 years with topics such as environmental awareness, re-and upcycling, zero-waste, community & solidarity structures, education, circular economy, with a special focus on gift economy, sustainable and solidarity life concepts, in the context of a neighborhood.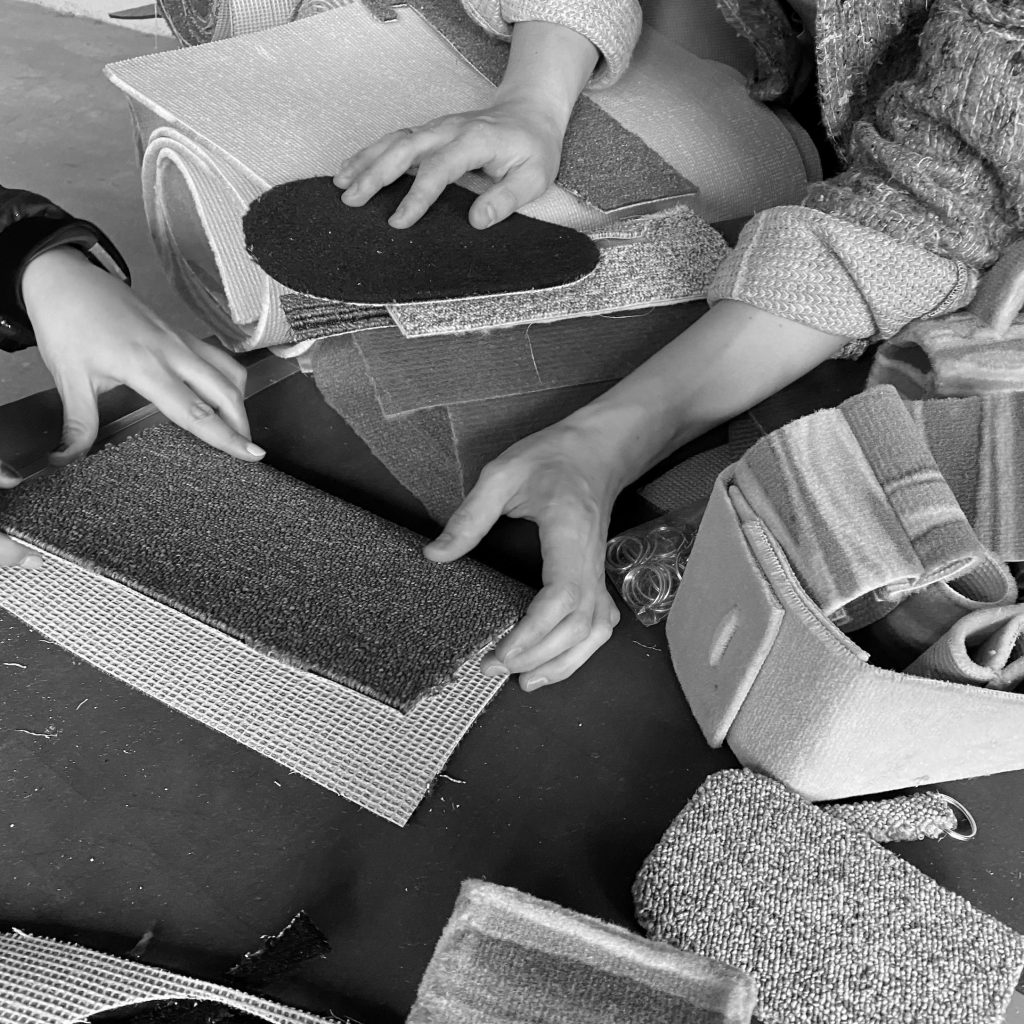 Kunst-Stoffe – Zentralstelle für wiederverwendbare Materialien e.V.
The Berlin-based organisation Kunst-Stoffe promotes an artistic, aesthetic and sociological exploration of reuse and second hand culture. It maintains a large collection of used, discarded and surplus materials and makes them available as a sustainable resource. Further, it provides equipped studio space and offers educational training in creative reuse and sustainable strategies. 
Ort-Schafft-Material
Ort-Schafft-Material organizes workshops intending to use the available materials of the surrounding landscape. Each workshop deals with a different material, so to speak with a different facet of the city of Berlin. A further aim of Ort-Schafft-Material is the networking between participants, experts, and the public and a very interesting place, the "Haus der Statistik" (House of Statistics). This is located near Alexanderplatz and offers a pool of different resources that can be found and used.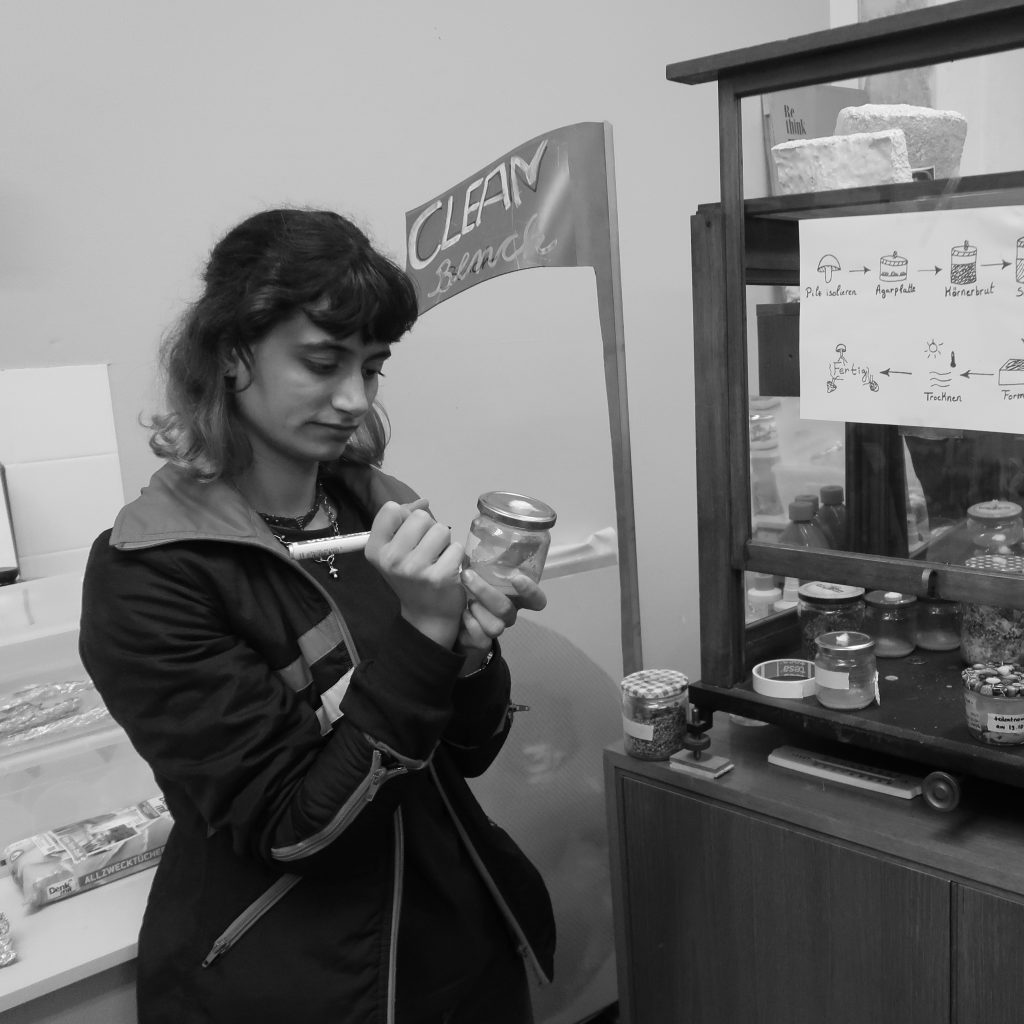 Reste der Reste
Reste der Reste is a "Do-it-yourself-and-together" group from Berlin, experimenting with tree fungi and what you can make out of them. Working with mycelial cultures has brought them together from art, design and natural science in the House of Materialization (Haus der Materialisierung). For the past year, they have been working under the title Remains of What Remains (Reste der Reste) to use fungi to grow new materials and art objects from wood waste. 
Soydivision
Soydivision is a contemporary art collective of Indonesians living in Berlin that works at the intersection of art and activism. Soydivision curates performances, organizes workshops, culinary art activities, film screenings, and discussion panels. Their focus is to create socially engaged art through social practice with cathartic experiences. Re-questioning, or therapeutic healing, are recurring themes of Soydivision's artistic output or activities. Their diasporic perspective underlies an alternative approach to contemporary issues through art and encourages new forms of dialogue and engagement.