What is progress? How do we produce and exchange value?
The third section of the Driving the Human Opening Festival explored collective and democratic practices, while investigating small-scale economies and alternative production cycles.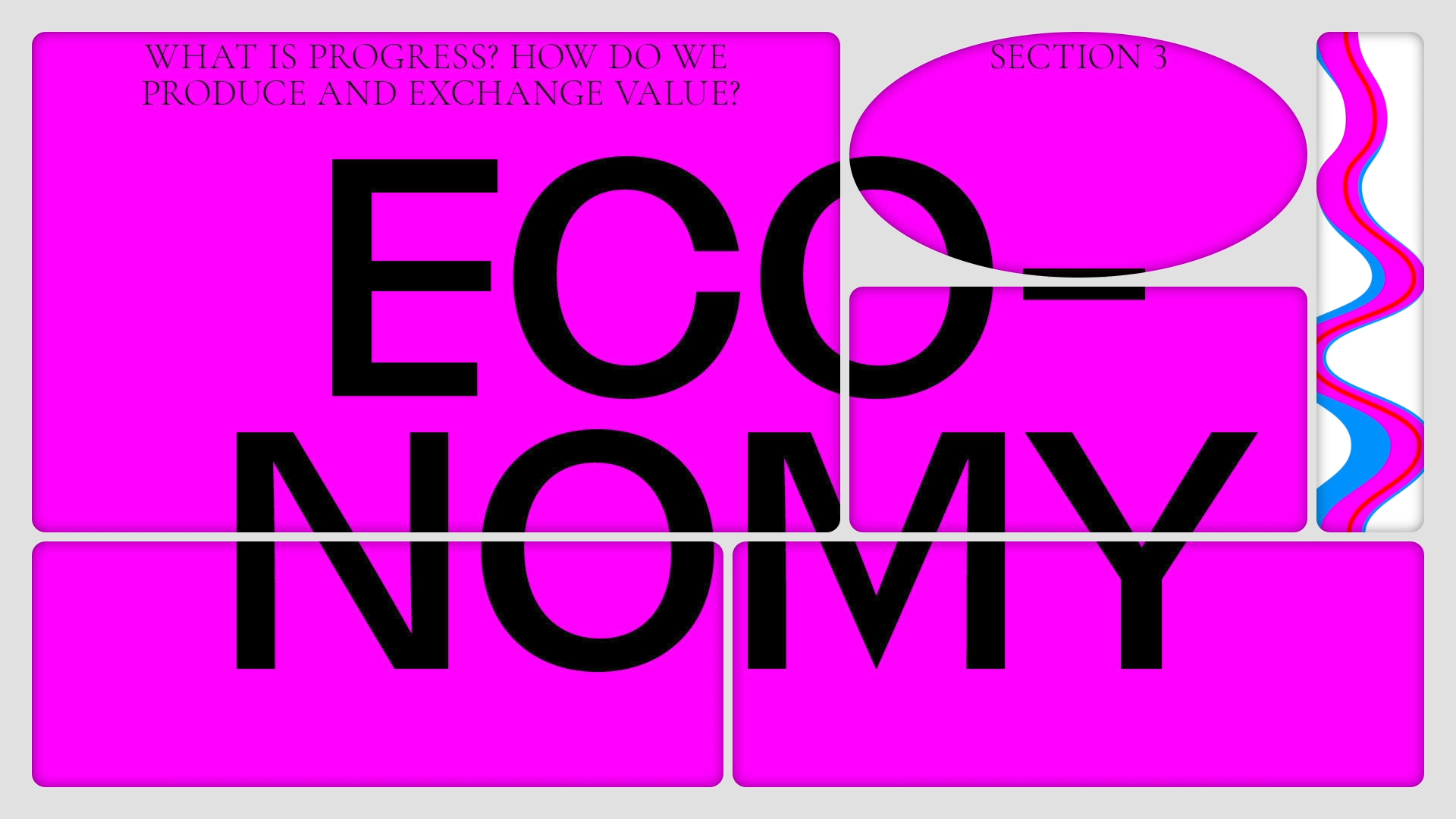 We live in a world of growth where new links between global and local, urban, and rural, big, and small-scale economies can emerge. This section was not about "the economy" but about how we might identify, strengthen, and build alternative economies that do not reinforce and rely on notions of progress and growth that are problematic. Currently, progress is defined by socio-economic processes, while it should rather be measured by its positive influence on the Commons, the treatment of nature and human and non-human life. The concept was to imagine how we can, with a new economic approach, develop alternative models of Labor, Production, Consumption and Decision-making.
Barbara Kiolbassa and Julien McHardy introduced the section and announced the first part, a statement by philosopher, writer, and curator John Thackara. Addressing the urgencies of our time, Thackara stated that we are transitioning from the history of capitalism as the DNA of the economy, to the unwinding of a neo-liberal period. He gave us his thoughts about current progress, growth and new alternative models and possibilities that can emerge. He also answered questions such as how can we learn from nature and use chaos as a structuring principle for the next phase of the growth of our communities and ourselves.
"We're in a transition from something, but also to something"
–John Thackara
Thackara's statement was followed by a panel discussion moderated by Anett Holzheid with Michel Bauwens, theorist, writer, advisor, and founder of the Foundation for Peer-to-Peer Alternatives; Richard D. Wolff, professor of Economics Emeritus at University of Massachusetts, Amherst, and founder of Democracy at Work; and Susanne Kadner, head of Circular Economy Initiative Germany at acatech. The panelists were invited to share their expertise and views on how to foster economic change that better safeguards the intricate interconnected life on the planet in a complex world of physical and digital, of material and immaterial goods. The audience was invited to join the discussion and actively participate and engage with the members of the panel by asking questions and commenting on our Telegram group.
The section ended with a performance by Vivien Tauchmann, titled "Self-as-other Training: Retail", in which she guided the audience to follow her instructions and repeat her movements, while supermarket noises can be heard in the background.
If you liked these ideas and would like to join us and become part of the Driving the Human project, we encourage you to apply to our Open Call until April 9, 2021. Send us your own concept and visions for shaping sustainable and collective futures, which can be later realized as prototypes.