Forests of Indigenous life cycles and histories of displacement
Eliana Otta contextualises her project Virtual Sanctuary for Fertilizing Mourning, a virtual space collaboratively built with the Peruvian communities Nuevo Amanecer Hawai, Unipacuyacu, Puerto Nuevo and Sinchi Roca, to learn about their assassinated  leaders, and their threatened territories.
When a baby is born within the Peruvian Amazon indigenous community Nuevo Amanecer Hawai, "they bury the baby's umbilical cord in the soil," states Eliana Otta, "where they will also go back to die." In the indigenous communities Puerto Nuevo and Sinchi Roca, similarly located in the Peruvian Amazon, people bury their dead inside their houses. The life cycles and ancestors of these communities are deeply interwoven with the lands they inhabit. If a body gets misplaced or the landscape rooted out, the community is cut off from this site-specific history. After several murders of Indigenous leaders within the Peruvian rainforest, artist Eliana Otta decided to built a Virtual Sanctuary for Fertilizing Mourning to denounce and mourn those deaths. In collaboration with Gabriel Alayza from the animation studio Hermanos Magia she is creating a virtual platform that offers tours through the stories, objects and landscapes important to the indigenous communities. The Sanctuary is aimed to serve as an archive, as well as an instrument of communication. 
Last October, at the Driving the Human: 21 Visions for Eco-social Renewal event, Otta offered a guided meditation searching for intimate ways of connecting to plants. Acknowledging how our life cycles are always connected with non-human actors around us, the artist invited visitors to meditate on how they relate to the environments they inhabit. Small groups would lay down in a circle for this experience, with each person given an image of sites within the Peruvian rainforest previously visited by Otta. She asked participants to picture those sites and think of a specific plant that holds importance to them. Leading the meditation through a set of sensory questions, she helped them to create an emotional connection to that plant. The meditation set off a process of understanding how intimately the four Indigenous communities Otta is in contact with relate to their landscapes. Now, her project enters the next phase, weaving those stories into a virtual platform. After being in touch digitally for some months, Otta finally got to visit the four communities at the beginning of this year. Despite the diversity of their cultural contexts, she states how their cases have a few things in common.  "All of them are in the Peruvian rainforest," she says, "and had their leaders killed for trying to protect their territories from deforestation, land trafficking and drug trafficking."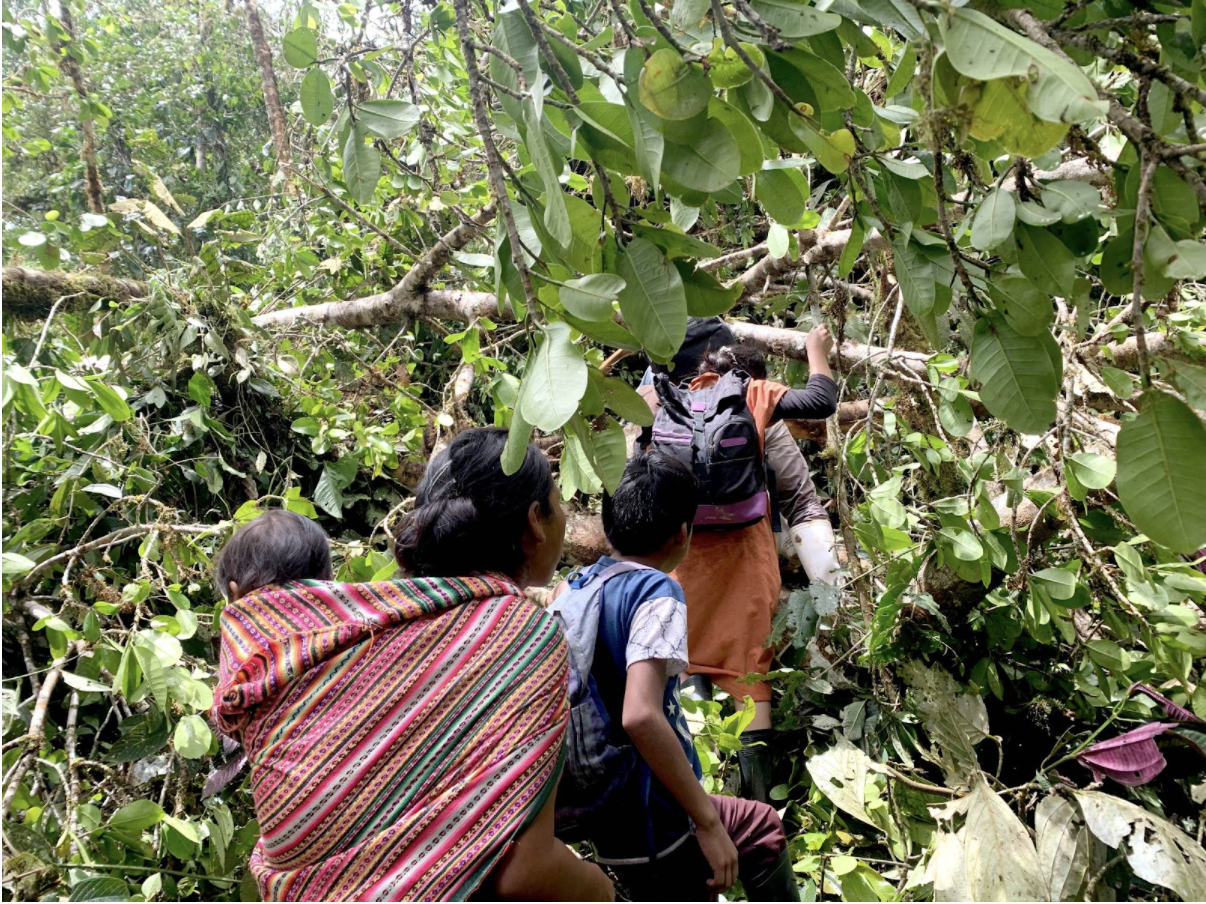 Otta describes the case of Nuevo Amanecer Hawai as an emblem for understanding the outlines of Indigenous Peruvian history over the last decades. As part of the Ashaninka community, they belong to a territory traditionally known as Gran Pajonal area. They were first forced to leave this area throughout the 1980s and 1990s, threatened by genocide by the communist party Sendero Luminoso (Shining Path). Sendero Luminoso was an insurgent group striving towards full communism, aiming to overthrow the Peruvian government and violently forcing a cultural revolution onto the local population. Through this armed conflict the Ashaninka community lost about 6'000 members, which made up almost 10% of their population in total. During that time, the Sendero Luminoso also threatened many other Indigenous communities, creating a shared history of oppression. "Nuevo Amanecer had to leave their lands and fled to the town of Puerto Ocopa," Otta describes, "where they were protected in a convent." Throughout their time in the convent, they were separated from many of their cultural practices. "They learned Spanish and got used to some habits such as eating rice and pasta (on top of yucca, banana, fish and the animals they hunt, which are the base of their diet)." When the Peruvian Armed Forces expelled the Shining Path from the Gran Pajonal area, the Indigeneous leader Mauro Pío (named at the convent) led their people to return home. Throughout the early 2000's they rebuilt their community to what is now called Nuevo Amanecer Hawai (honouring the Hawaiian variety of pineapples growing in their orchards). Commercial interests in the high-quality woods growing on their land attracted wood cutting companies, threatening their territory once again. In 2013, when their land tilting was about to be given by the state, their leader Mauro Pío was murdered by wood cutters. His son, Gonzalo Pío, took over to lead the community for a few years, but also was murdered in 2020.
The case depicts the commercial, cultural and political interests intersecting within the Peruvian rainforest and lays out some context of the ongoing threads to indigenous land. Nuevo Amanecer Hawai, like Unipacuyacu, Puerto Nuevo and Sinchi Roca are still resisting to protect their territories. Over the past few years, Eliana Otta has created drawings, performances and workshops pointing towards issues of extractivism, while searching for more sensorial and affective ways of relating to nature. Through building a virtual platform, Otta hopes to communicate how viewing the forest as an objectified resource is threatening Indigenous ways of living, as well as the many non-human actors they share their land with. "These episodes show how in extremely precarious but rich environments, specific communities are under different and cruel threats," concludes Otta, "fighting for their right to inhabit their lands in peace and to be able to develop their ways of living as their ancestors did before."
Text by Aisha Altenhofen / Images by Eliana Otta