Book tour 2023: Dates and locations announced!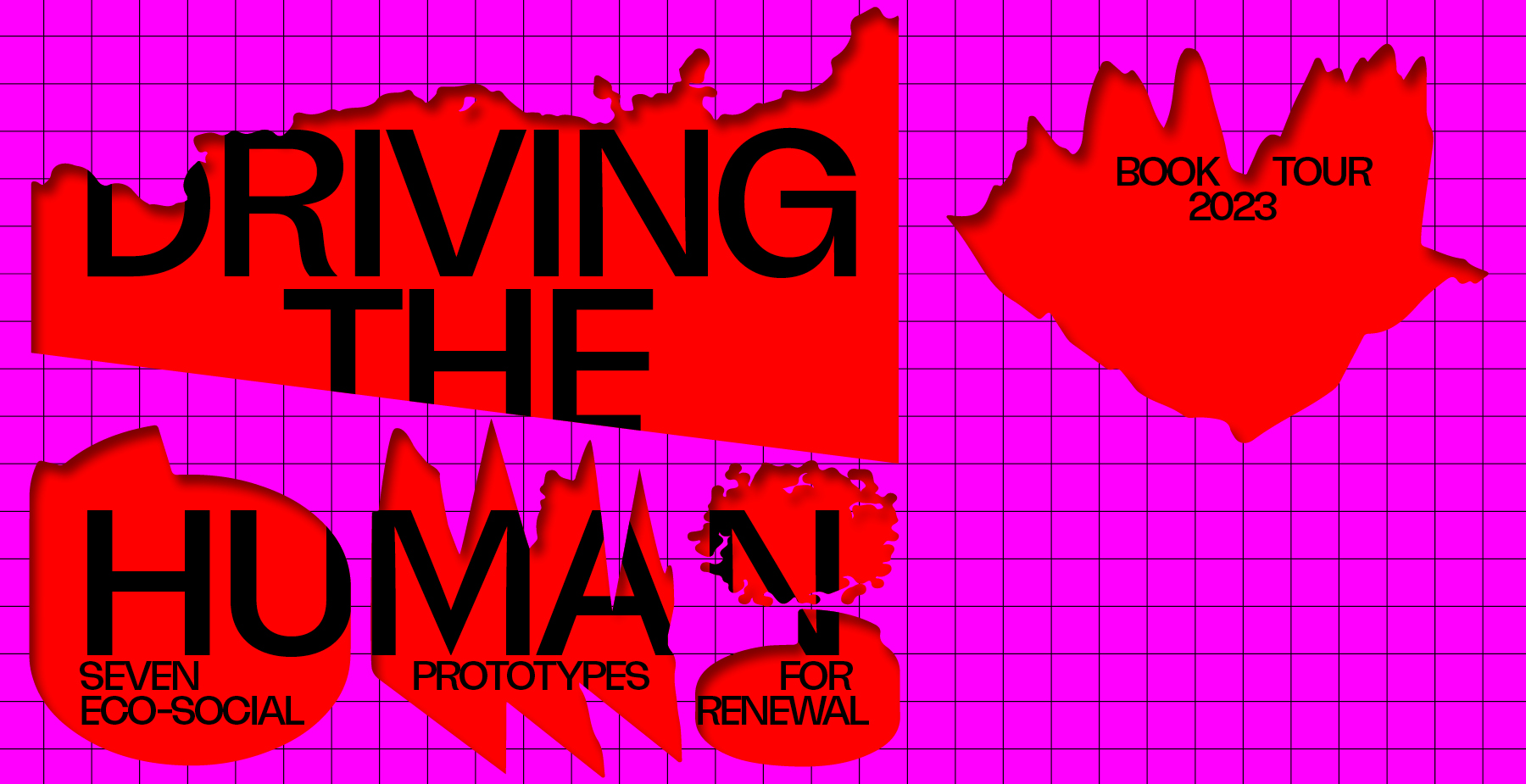 We are thrilled to announce the upcoming launch of our publication Driving the Human: Seven Prototypes for Eco-social Renewal, which marks the end of the three year initiative. The book documents all the milestones of the project, while contextualizing and expanding the discourse on the several themes at the core of Driving the Human. Combining expert voices and emerging creative visions, this publication offers an in-depth look at essential themes in our current moment of eco-social transformation, and advances new proposals to inhabit the planet. Driving the Human: Seven Prototypes for Eco-social Renewal combines thought-provoking essays and conversations with powerful images and visual language. The publication is released in collaboration with Mousse Publishing and distributed worldwide, both online and in stores. 
To celebrate the book launch and the project's last steps, we're embarking on a small book tour throughout several European cities. From Lisbon to Milan, and from Venice to Berlin, the events will include lively debates reflecting on the three year process of Driving the Human, inviting partners, experts and project authors to think with us, sharing some insights about what comes next.
The tour kicks off in April, following the itinerary listed below:
April 18, MILAN
Book presentation at "The Beauty of Publishing" talk hosted by form magazine editors-in-chief, Anton Rahlwes & Nina Sieverding at DOPO? space.
April 30, LISBON
Book presentation at Takeover Fest – Blueprints for Agency at Sinel de Cordes Palace in Lisbon. The event is hosted by Lisbon Architecture Triennale together with Forecast as member so LINA platform
May 10, BERLIN
Book launch, debates and workshops at Matters of Activity. Image Space Material at the Humboldt University, Berlin
May 18, PORTO
Book launch at the Portuguese Centre of Photography in the context of the Bienal de Fotografia do Porto, which features installations by Virtual Sanctuary for Fertilizing Mourning and Backpack of Wings 
May 20, VENICE
Book launch at Venice Architecture Biennale 2023 with Maxxi Museum and LINA
June 17, KARLSRUHE
Book launch at ZKM, in the context of the installations by Human Bacteria Interfaces and Monsters and Ghosts of the Far North, presented alongside the exhibition Renaissance 3.0 
The full details about each event will be released closer to its dates.  Subscribe to our newsletter to receive the latest updates!
For those who can't join us physically, we'll be sharing snapshots of our book tour on our website and social media.  And at the kick-off of our book tour, we'll share more details on how to secure a copy!